Television and film piracy is one of the most talked about issues and poses a persistent problem for the creative industry. A number of copyright measures have been taken, but many shows appear online just hours after being broadcast.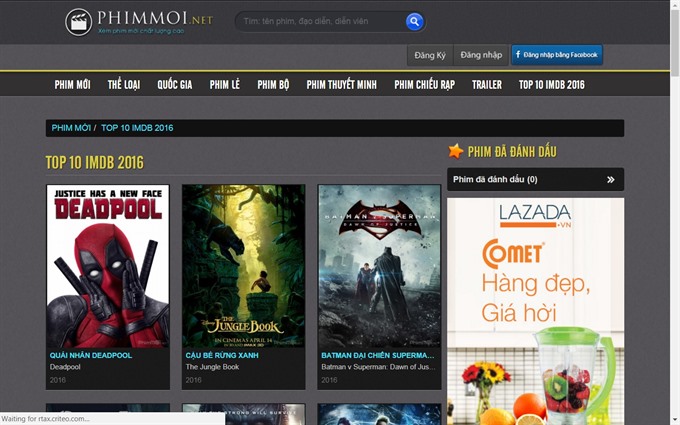 In early May Vietnam Cable Television, or VTVcab, had to stop broadcasting UEFA Champions League football matches after South Korea's KJ Investment Group Inc, which had licensed VTVcab, stopped providing the feed due to piracy.
Many websites were illegally streaming the matches live by stealing the content, and VTVcab told the Korean company it was unable to prevent it.
This caused the cable channel huge losses and gave it a bad name in the eyes of international partners, Hoàng Ngọc Huấn, its CEO, lamented.
Television and film piracy is one of the most talked about issues and seen as a persistent problem for the creative industry.
Many of Vietnam Television (VTV)'s hit shows, for instance, Sống chung với mẹ chồng (Living with Mother-in-law) and Người phán xử (The Arbitrator) appeared on pirate sites just hours after being aired.
"Many copyright monitoring measures have been undertaken, but they are yet to catch up with the growth of broadband internet," Nguyễn Hà Yên, deputy director of the Authority of Broadcasting and Electronic Information, said.
Speaking at a workshop on "Promoting Online Safety and Protecting Brand Integrity" in HCM City earlier this month, he said the country has 32 companies providing analog and digital cable, satellite television and internet television services to 13 million subscribers.
There are also 78 national and 50 international pay channels whose contents need to be protected from piracy.
"Given the size and scale of television services, the management and handling of copyright infringement is quite a complex process."
He said there are two main groups of violators: TV stations rebroadcasting content from other TV channels or production companies without permission and websites distributing copyrighted content such as TV shows and movies without permission from the copyright owner or licensee.
While the first group is not difficult to treat because the violators are licensed companies, the latter issue is more complex, he said.
Of the top 50 pirate websites in Vietnam, 22 have servers abroad, which makes it even harder for authorities to deal with them, he said.
Besides, "shutting down one illegal website does not stop the violator from setting up a new website", he pointed out.
There are several regulations to tackle TV and movie piracy and sanctioning it, such as Decree 31 issued in 2001 and last year's Decree 06.
But actress Hồng Ánh dismisses them saying they lack teeth and are not sufficiently deterrent.
In 2014 her company Blue Productions distributed a documentary called Chuyến đi cuối cùng của chị Phụng (Ms Phụng's Last Journey), which was very well received locally and internationally.
"Right after the distribution agreement ended, the documentary was uploaded on the internet and shared at breakneck speed."
She had a lot of explaining to do to the producers and spent a lot of time and effort locating the server that had illegally uploaded it, which turned out to be in Europe.
"As a movie producer, one of my constant fears is that my products will be leaked online before it hits cinemas," she said.
Yên said to combat copyright violations, State agencies and copyright protection organisations should work together to educate the public.
But more importantly, funding for pirate sites from advertising and donations should be stopped, he added.
Curb funding for piracy
Since the dawn of the digital revolution TV and movie piracy has not been as simple as someone sharing a good movie with their friends: most of the time it is an attempt to steal content that belongs to someone else and earn advertising revenue from it.
Almost every piracy website is owned and operated for profit, and these profits are mainly generated by advertising, Bharat Kapoor, CEO of Singapore-based online risks data provider Veri-Site, said.
A recent Veri-Site study found that the 50 most popular pirate websites in Vietnam are reliant on advertising as their primary source of funding.
According to Vietnam Television (VTV), a pirate website could earn around VNĐ10 billion (US$440,700) a year by illegally streaming content.
A pirate film site gets four million monthly visitors on average with Hollywood movies getting it two million views, VTV said.
Data from the Motion Picture Association shows that in Vietnam pirate sites – usually free – get 105 million monthly visits while legitimate sites get only two million.
These numbers are hard to resist for advertisers.
Mainstream brands often suffer collateral damage to their reputation when they are placed alongside "high risk advertisements" embedded with malware or linked with adult dating, pornography and gambling sites by advertising agencies without their knowledge, the Veri-Site research found.
According to the Vietnam Content Alliance (VCA), if advertisers and advertising networks stay away from piracy sites, their illegal profits dry up and it becomes harder for the criminals who operate them to pay for the server and other expenses.
In the last 18 months the VCA, made up of Vietnamese and international content producers and distributors, many of whom seek to promote a safer and more trustworthy digital environment, has worked with major advertising networks in Vietnam and well-known brands to put in place a process to prevent mainstream brands from being placed advertently on piracy websites.
Yên said the VCA should help people be aware of copyright infringement and the damage it does not only to content producers but also to themselves.
At the workshop, experts said consumers were often oblivious of malware found on pirate sites they often access to look for free stuff.
As there was no such thing as a free lunch, they ended up losing passwords, credit card details and personal data, they said.
The massive cyber attack by the Wannacry virus in 150 countries including Vietnam last May was a real wake-up call for people who usually ignore the risks of malware found on pirate sites, they said.
VNS