VietNamNet Bridge – Vietnamese musician Tri Nguyen learned to play both the piano and the traditional Vietnamese dan tranh (zither) at an early age.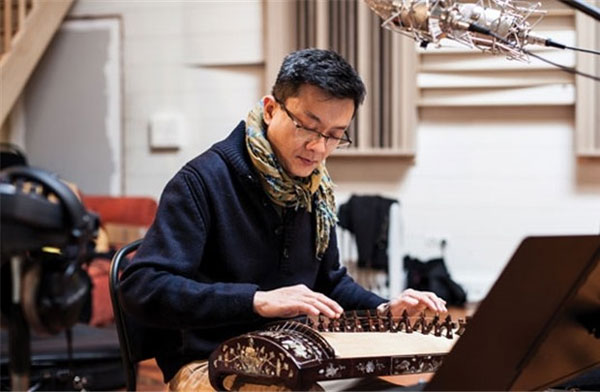 Vietnamese musician Tri Nguyen.
After graduating from the Music Conservatory of Sai Gon's piano department, he continued his studies at the Ecole Normale de Musique de Paris. But he did not leave dan tranh behind. He continued learning the Vietnamese instrument from dan tranh master Hai Bieu, one of the last musicians from the old school of Vietnamese music.
Tri Nguyen's album, Consonnances, won the US Global Music Award gold medal for world music, and was chosen to be among the top 10 albums of 2015. The same year, the album received another award from Akademia US for Best Album in the Instrumental and Classical category.
In 2016, he released an EP titled A Journey Between Worlds. He was a voting member of the Grammy's in 2016.
He returned to HCM City earlier this year to introduce his latest album, Beyond Borders.
He talks about his dream of taking traditional Vietnamese music closer to international audiences.
How does it feel to return to your homeland to introduce your latest work?
I'm glad to have come back because I have some Vietnamese audience enjoying my music. There are shops that sell my music in Viet Nam, but my music has not been popularised here. My first album Consonnances  has five pieces, which have become bestsellers on iTunes.
This time, I want to introduce Beyond Borders to Vietnamese listeners. The album is different from my previous works. My albums have had Vietnamese folk pieces, but Beyond Borders combines different music genres, from Africa, Scotland, Brazil, France, and Viet Nam.
Many people told me that they like dan tranh, and they asked me why I did not do the album earlier. When I was a Grammy vote member, many artists told me that they did not know much about Vietnamese music before my album, and that it is very interesting. I want to combine Vietnamese music and music from other countries so that I can introduce Vietnamese music to the world.
Why do you want to combine Vietnamese music with music from other countries?
Beyond Borders comprises 10 pieces that are a blend of six music genres I spoke about earlier. It was very interesting to work with French singers from Corsica Island. They have regulations of polyphonic singing, which I didn't want. They usually sing in traditional way, like a cappella. It was difficult to get them to change their singing to suit Vietnamese folk songs and dan tranh.
But the collaboration was successful as the Corsica singers were not only talented but also friendly and broad-minded. Singers from Africa also like dan tranh. I think it is important because it needs to make a crossover.
When we work together, international musicians and I are at the same level. Obviously, I cannot force them to play with me, but they like my music. I'm happy because we understand each other and create good music.
I'm lucky because my parents wanted me to be rooted to our ancestral culture. They invited a đàn tranh master to teach me folk music. I also studied in western schools when I was small, to play the piano.
So I believe that I have the knowledge of both Vietnamese and western music. It is my advantage to introduce Vietnamese music to the world.
What do you want from Beyond Borders?
Beyond Borders is my way of bringing music closer to life, spreading love and friendliness without gaps of status, origin and situation. I'm on a new musical journey that will open all hearts, connect people and bring peace.
Is there any common thread that runs through your music?
I want dan tranh to be the master and highlighted in a western orchestra. All pieces in Consonnances have Vietnamese characteristics in a western arrangement. My EP, A Journey Between Worlds, is a combination of the Arab oud and Vietnamese dan tranh.
Beyond Borders is a crossover of Vietnamese folk and other music genres. Where did the inspiration come from?
Music is life. Since the creation of the world, music has been close to man, from birth to death. It brings people from every nook and cranny closer. I studied the piano and dan tranh at a young age. Music allows me to eliminate borders.
My three music albums all honour dan tranh, and combine it with other instruments. I want to go further, collecting and connecting music pieces. I want to combine Vietnamese folk music to other traditional music genres and other instruments, but at the same time preserve the distinct characteristics of each genre.
Your music is played in many places world over, but it's almost unfamiliar to Vietnamese people. Why so?
I know that my music does not fulfil the Vietnamese audience's definition of musical enjoyment. The Vietnamese audience likes to listen to romance, smooth and gentle music. Frankly, it is in the 1980s. I do hope that the tastes of Vietnamese music lovers will evolve. I feel lonely. But it does not mean that I won't continue my work. I don't want to introduce authentic, traditional Vietnamese music to the world because it is difficult to enjoy.
VNS