VietNamNet Bridge – Chu Thi Boi never thought that one day she would be on stage, singing then and playing a dan tinh to an audience of hundreds.
But she managed it.
Last week, the young woman impressed the public with a performance of traditional music of the Tay ethnic people from Ban Hon Village in Ba Be District.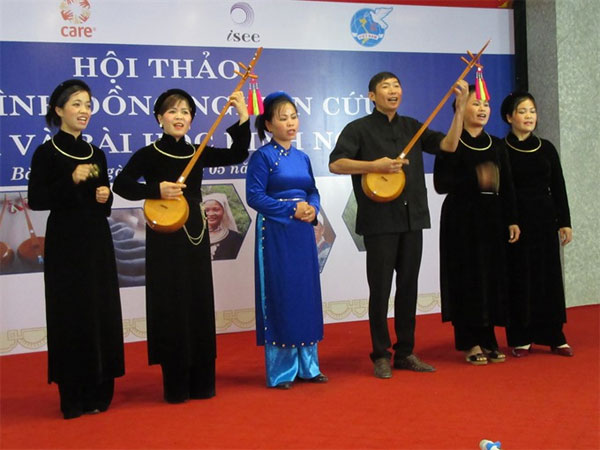 Traditional tunes: The research team from Ban Hon Village, in Ba Be District, learned about the "dan tinh" instrument and "then" singing. — Photos: Bach Lien/VNS
Confidently stepping onto the stage, she spoke to hundreds of people gathered in the conference hall at the Bac Kan Hotel about the traditional music of the Tay before performing.
Just a few months ago, Boi didn't know much about those traditional melodies, usually accompanied by a gourd lute called a dan tinh. But every thing changed after she took part in a research project about the art of then singing and dan tinh, along with 3 women from Ban Hon Village.
She spent time meeting and talking to inhabitants of the village, finding out what they knew about the music. She also met Ma Trung Truc, the only artist in the village playing dan tinh, to ask him about the origins of then singing and the way to make this original musical instrument.
"The singing has been gradually forgotten in my village and my community, so my research team and I wish to contribute to preserving it along with other people of my region. We also want to present it to other regions," Boi says.
"At first, I was afraid that inhabitants in the village would not want to answer my questions, but I was glad to see they were happy to talk and share their love of then singing and dan tinh… A few wanted to learn how to play dan tinh but have not found the time."
"Through the project, I made friends with a lot of new people, and was able to learn new skills like taking pictures, interviewing, taking notes. So, I gained confidence and became more active. And in particular, we found solutions to better preserve the traditional music of the Tay people," she adds.
Project strengthens voices of women
The project that Boi and her research team took part in was titled "Voice and Rights for Ethnic Minority Women in Viet Nam" which covered the Phuc Loc and Banh Trach communes of Ba Be District.
The project conducts research within the community to enhance the abilities and voices of 70 women from the Tay, Dao and Mong ethnic groups in the area. There will be 10,000 expected beneficiaries.
The project is carried out by the Bac Kan Provincial Women's Union, Care International in Viet Nam and the Institute for Studies of Society, Economy and Environment (iSEE). They gave the women cameras and trained them on cultural diversity, photography, recording and participatory research methods.
These women, called "collaborative researchers" take pictures of their daily lives in the commune. They identify problems endemic in their communities, and advocate on issues that affect them to local authorities, the Government and civil society.
The project started in 2015 and will last until 2018, and is expected to be enlarged to other regions.
The EU has also supported the project with a grant of 273,000 euros (US$296,500).
Thirteen community research teams from two communes conducted research on different issues. They include environmental pollution, domestic waste, husbandry of indigenous black pigs, children dropping out of school and traditional costumes of the Tay and Dao, the art of then singing, the dan tinh of the Tay, harvest festival of the Dao Tien, and others.
In May 2017, the participatory research methodology and the research results of the groups in two communes were shared with the communities, authorities at all levels, public and social organisations from the central to local level and the press. Based on the research results, groups worked together with community members to propose initiatives to solve the issues.
For a better life   
Women taking part in the project said they could further learn about issues in their community, learn from the community and be more confident.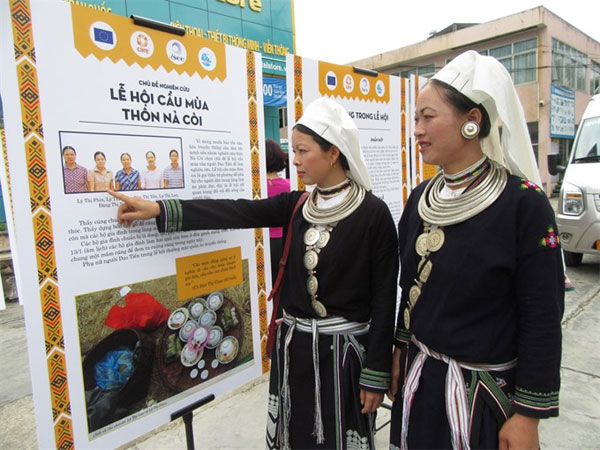 Ethnic threads: Women from the Dao Tien ethnic group stand in front of a photo panel showcasing their research results on traditional costumes in their community. 
Besides familiar work like farming and household chores, the co-researchers began to take photos and interview villagers about issues facing the communities.
"Without this project, I wouldn't have learned a lot of things, such as people's frustration with waste pollution that had never been mentioned before. Through this project, we can give a voice to these problems, says Nong Thi Inh from Thieng Diem Village, Phuc Loc Commune.
"When I first took photos, people didn't understand why and didn't want us to take their photos. But when they knew that we were doing research on environmental pollution, they supported us.
"They said there were a lot of people littering, polluting the water, they were really mad at it. Some even waded into the river to bring the plastic bags for me to document. At first I was very shy and didn't enjoy communicating with people. But when I got support from other people, I was really inspired."
Luckily, most of them get support from their husbands and their families.
"My child is still small, almost a year old, and hasn't been weaned yet, so when I started doing research, I was really worried, but my husband encouraged me. I was afraid of being criticised by my mother-in-law if I neglected housework, my husband said 'Don't worry, I will do it for you, my mother can't say anything'," confides La Thi Doan.
They became much more confident.
"I didn't dare to talk to strangers before. Now I can talk to everyone and I feel more confident speaking in front of a crowd," says Sung Thi Hoa.
Many women also learned how to better breed their cattle to bring higher revenues to their families.
"Previously, many chicks used to follow their mother and were bitten by harmful insects, becoming sick and perishing. Only two out of 12 chicks survived. Now as I did research about how to raise animals, I learned a new technique from farmers in neighbouring villages on how to take better care of chicks:  I should separate them from their mother and warm them with electricity. This proved very efficient and all chicks survived," says Ban Thi Mai.
Based on the findings of the studies, the community found many solutions to the serious community issues: Creating more boarding schools  to encourage children to go to school when their houses are too far away from school, the construction of an incinerator to solve pollution from waste, the renovation of downgraded meeting rooms, and the establishment of the singing club of the Dao Tien to preserve their traditional melodies.  
Their initiatives were welcomed by local authorities who have promised to do their best to satisfy their demands.
"I am surprised to see that women became much more energetic and confident after a short time of involvement with this project. Previously, they used to listen to their husbands. Now many of them make their own decisions about what animals to raise or how to take care of them. Previously, they were shy and often absent during public meetings and never put forward ideas. Now, they are sure of themselves and propose bright initiatives," says Ma Van Xuong, chairman of Banh Trach Commune's People's Committee.
Ha Thi Lieu, president of Bac Kan Women Union, says she highly appreciates the project, which could strengthen the voices and roles of local women in their families and society. It also allows them to contribute more to the development of society.
"The lives of local people have remained difficult, as they rely on agriculture to live. The number of illiterate women is still high.
"I hope that the project brings ethnic women, a marginalised group, opportunities to overcome challenges and make positive changes to their lives," she says.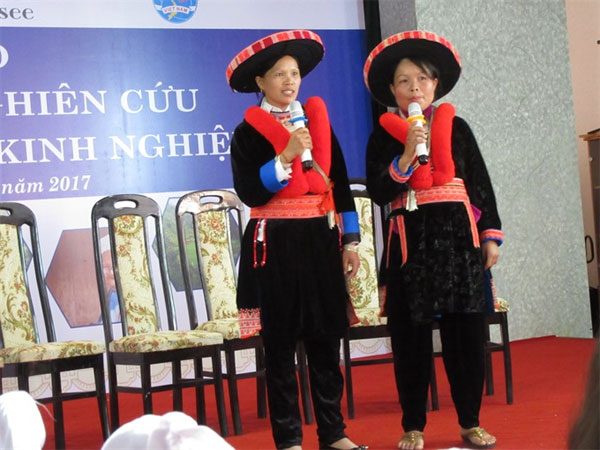 Raising chicks: Two H'Mong ethnic women from Ban Lap Village talk about the results of their research on the husbandry of chicken at a conference held last week in Bac Kan City. 
Vuong Bach Lien
VNS