Phuc Sen commune in Quang Uyen district, Cao Bang province has become known as the homeland of the Nung An ethnic group with signature stone fences in front of their houses. In the third lunar month, Phuc Sen is bustling with daily festivals which attract many visitors to the locality.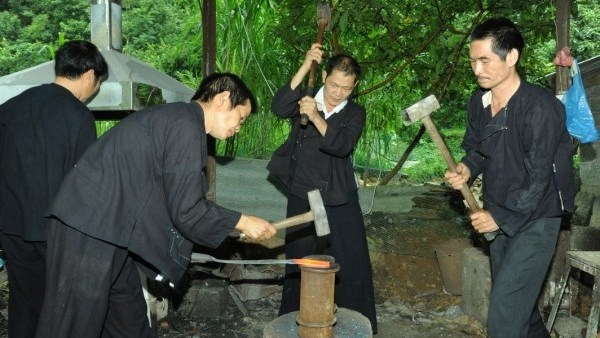 Nung An ethnic blacksmiths working at a smithy in Phuc Sen commune
Phuc Sen valley is located in the Phja Chang mountain range, which brings a temperate climate year round. Friendly Nung An people there earn their living through traditional crafts such as embroidery, weaving and forging.
Rocks and stone can be seen everywhere in every village in Phuc Sen. Stone has had a close attachment to the locals for many generations, although Nung An elders don't know how long stone has been formed there. 
Brought from the mountain, rocks are carved into stone fences and walls to protect houses, rice fields, graves and trees from attacks of animals. 
Many houses in the commune are decorated with beautifully-carved stone pillars, which are around 1.5 metres tall.
At this time of the year, Phuc Sen people are celebrating 'Thanh minh' (grave-visiting festival) – one of the most important annual celebrations for family reunion of Nung An people. 
For those who are living or working far from homeland, it can be understandable if they cannot return home on the traditional Tet (lunar New Year) festival. 
However, if they don't show their presence on the occasion of Thanh Minh, they will be accused of not respecting traditional customs and ancestors.
Thanh Minh festival is observed throughout the third lunar month in Cao Bang. 
Each locality selects the most favourable time to celebrate the festival, and the one in Phuc Sen is one of the largest events. 
According to Sam Viet An, Director of Cao Bang provincial Department of Culture, Sports and Tourism, the festival also aims to commemorate the love story of couple Minh and Sinh, who are believed to bring water to springs in the land and bumper crops for Nung people. 
The festival provides an occasion for Phuc Sen to advertise their tourism potential and traditional cultural identities to visitors, who are invited to enjoy the fresh air and beautiful melodies of love duet singing.
Nung people possess diverse culture with their cultural highlight being Heo Phun singing. 
According to Nong Than Thuong from Phja Chang hamlet, Heo Phung is love duet singing, lyrics feature the friendliness of Nung An people. 
The singing has been preserved intact as a unique form in the repertoire of folk singing of ethnic groups in Cao Bang.
The quintessential cuisine of Nung people is also introduced at the festival through contests of pig roasting and five-coloured steamed glutinous rice cooking. 
The glutinous rice is made from freshly harvested rice, which is soaked with indigenous leaves of different forest trees to make the colours for the dish, namely white, black, red, purple and yellow. 
The dish is not only eye catching and delicious but also a symbol of the sprouting of things in nature during this period of the year.
Visiting Phuc Sen, visitors can hear hammers echoing in old smithies, which are busy year round. 
Luc Van Van, the fourth-generation blacksmith in Pac village, said he can't remember how old the craft of forging was, it has been handed down through generations to generations. 
A master blacksmith in Phuc Sen can identify exactly the time to take out the metal work piece from the kiln and dip it into water to ensure the maturity of the product in the charcoal furnace while ensuring the hardness of the product. 
That is why made-in-Phuc Sen hand tools have been presented at many markets inside and outside Cao Bang and have won the appreciation of customers.
In addition to forging, Nung An people in Phuc Sen commune are also masters in cloth weaving and brocade embroidery. 
Nung An people not only make their costumes by themselves but have also produced for trading, and their products have won consumer favour. 
Their costumes are dyed using natural ingredients but not chemicals, with indigo as major background colour. 
Nung women also show their talent and skills at their embroidery products, which are varied in styles, harmonious in using colours, and sophisticated in decorative patterns and designs.
Preservation and promotion of traditional values have been defined by Phuc Sen commune Party committee and people as an important task to enhance the spiritual life of local people while enriching Vietnam's cultural repertoire. 
They have also exerted every effort to develop the socio-economic situation. 
Working hard and enjoying life at the same time, Phuc Sen people's efforts have been rewarded as the commune was recently recgonised as one of first five new-style rural areas in Cao Bang. 
This is an honour and a motivation for local people to make greater contributions to further develop their homeland.
Nhan Dan