"Sac bua" (Tet greeting) singing in Phu Le commune, Ba Tri district, in the Mekong Delta province of Ben Tre, has been named national intangible cultural heritage.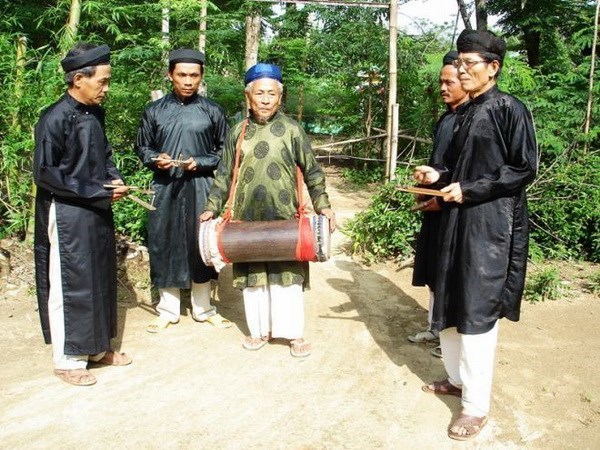 "Sac bua" artists
The provincial Department of Culture, Sports and Tourism held a ceremony on April 13 to announce the title.
Vice Chairman of the provincial People's Committee Nguyen Huu Phuoc said the recognition is a great honour for locals.
"Sac bua" singing is a traditional performance in Ben Tre to wish for peace and prosperity on the traditional Lunar New Year (Tet).
It is believed to originate from the south central part of Vietnam. Locals from Quang Ngai – Binh Dinh region moved to the south to cultivate the Phu Le land in Ba Tri district in the middle of the 18th century.
Tran Van Hau from Binh Dinh was recognised as a teacher of "Sac bua". 
At first, there was only one "sac bua" singing group in Phu Le commune, with other teams established in neighbouring communes such as Phuoc Tuy, Phu Ngai, Bao Thanh, and An Binh Tay in Ba Tri district, and Tan Thanh in Giong Trom district.
"Sac bua" singing is also an agricultural ritual and spiritual activity, praying for bumper crops, peace and prosperity, and driving away ghosts and devils.
"Sac bua" singers perform in groups, each with a ringmaster and 4-12 artists. Musical instruments used include a Vietnamese two-chord fiddle, a drum and a coin clapper.
So far, the Department of Culture, Sports and Tourism, along with the the Association of Cultural Heritage, and the Cultural Centre in Ben Tre has opened classes to teach "sac bua" singing to 40 local people.
However, this singing is at risk of falling into oblivion as many senior artists died.
Phuoc suggested encouraging "Sac bua" artists to compose new songs to resonate amidts the cultural and spiritual lives of locals.
VNA