VietNamNet Bridge – Violinist Hoang Rob, whose music video filmed at some of Viet Nam's most famous tourist spots has drawn hundreds of thousands viewers on Facebook, has released his newest album.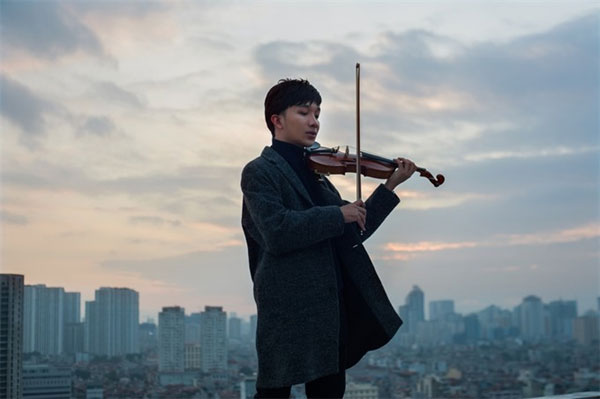 Sky high: Violinist Hoang Rob. Photo courtesy of Hoang Rob
Entitled Hung Dong (Dawn), the LP was produced in two years and features 10 music pieces — mostly in pop and world music style—that were composed by young composer Khac Hung.
"Dawn is a very beautiful moment of nature. Dawn also has been called a new vitality. That's why I named this music project Hung Dong. It presents a new chapter of my musical path," Hoang said.
Alongside violin music pieces, the album also features the songs May Bay Cuoi Troi (Drifted Cloud) sang by diva Tran Thu Ha, and Con Chim Sau (Flowerpecker) performed by ca tru (ceremonial singing) singer Kieu Anh. Both the songs were accompanied by Hoang's violin.
To promote the album, Hoang Rob will take the stage Sunday night for his first live concert — also named after the album — at the Ha Noi Opera House.
Alongside music pieces featured in his album, the violinist will accompany famous songstress Thu Phuong for the song Ngay Do Ta Gap Lai (We Reunion on That Day).
The violinist will also team up with ca tru singer Kieu Anh to perform Doc Am (Single Drinker). The unique performance, combining Vietnamese traditional art with Western instruments conquered both judges and audience of The Voice of Vietnam last year.
The repertoire of Hung Dong concert will also feature nhi (two-string fiddle) artist Tran Van Xam, who will share the stage with violinist Hoang Rob.
Explaining why his concert will employ both ca tru and nhi artists, the violinist said: "My artistic path had not only classical style, but also other modern genres such as jazz, pop and world music. That's why I want my concert to present two features: traditional, represented by those two artists, and modern, represented through my performance of mine and my string instrument group GEN9."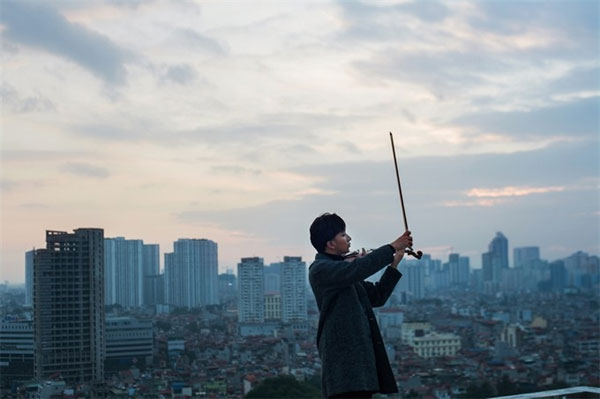 Master of his bow: Violinist Hoang Rob has released recently his newest CD album which entilted Hung Dong (Dawn). He will also have his first live concert on Sunday night to promote the album. Photo courtesy of Hoang Rob 
The famous dancer Linh Nga, whose traditional dance shows Vu (Dance) and Sen (Lotus) received acclaims from both critics and audiences, will also take part in the show, through a dance that she has choreographed especially for the occasion.
Hoang Rob, whose real name is Truong Nhat Hoang, was born and raised in Quang Binh. He started to teach himself violin at 16 as a way to realise his ambition.
Fascinated by the enchanting sounds, he honed his skills with the help of lecturers at the National Academy of Music, after he moved to Ha Noi in 2008 to study at the university. Influenced by the world's best-selling string quartet — Bond — he has perfected his fusion of pop, world music and classical instruments.
VNS