The 13th Culture, Sports and Tourism Festival of the ethnic minorities of northwestern Vietnam will be held in Lao Cai City in Lao Cai Province on October 1-3.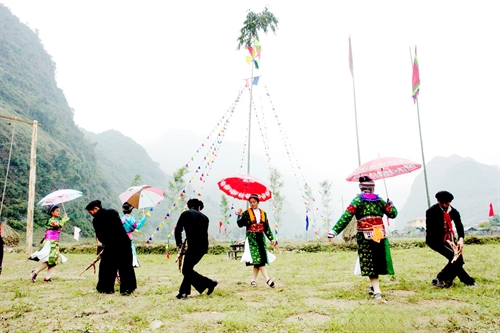 With the theme Northwestern ethnic minorities-unity and development towards National Tourism Year 2017, the festival aims to promote the cultural identity of ethnic minorities in the region. It will also contribute to raising awareness and responsibility of the community in developing, preserving and honouring the culture of ethnic minorities.
The three-day event will introduce domestic and international visitors to the local tourism potential and offer an opportunity for local artisans, artists and athletes to meet and exchange experiences.
The festival has attracted the participation of six northwestern provinces of Vietnam-Lao Cai, Yen Bai, Hoa Binh and Son La, as well as Dien Bien and Lai Chau- and two neighbouring provinces of Phu Tho and Ha Giang.
A number of traditional and cultural activities will be featured, including art performances, ritual ceremonies, traditional ethnic fashion shows and an exhibition on cultural and tourism products as well as a photo exhibition titled Colours of the Northwest and sports competitions.
According to Huynh Vinh Ai, deputy minister of Vietnam's Ministry of Culture, Sports and Tourism, the 13th Culture, Sports and Tourism Festival of the ethnic minorities in northwestern Vietnam will coincide with the celebration of the 25th anniversary of the establishment of Lao Cai Province. The event, which is held every three years, will kick off and connect upcoming series of cultural, sports and tourism activities within the province with National Tourism Year 2017.
"The festival this year will include more innovations in its content, which will differentiate it from the previous editions but still preserve the basic essence of each ethnic minority in northwestern Vietnam," he said.
 The opening ceremony will take place at 8pm on October 2 at the Provincial Cultural House of Lao Cai. 
VNS