VietNamNet Bridge – The Khmer in Vietnam's Mekong Delta have inherited Angkor culture with influences from the local wet rice civilization and Chinese and Cham ethnic groups. But they have developed a distinctive musical treasure, notably the 5-tone musical ensemble and some unique musical instruments.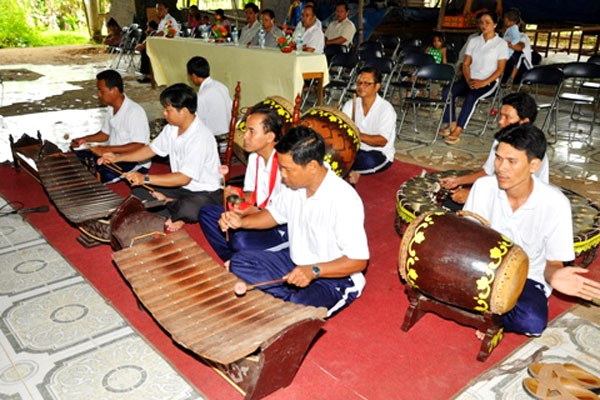 A 5-tone musical ensemble or Pinpeat orchestra of the Khmer.
The 5-tone musical ensemble or Pinpeat orchestra is a unique product of the Khmer in Vietnam's southern region. It performs ceremonial music in the pagodas and at major festivals. The 5-tone musical ensemble consists of nine or ten instruments, mainly wind, string, and percussions including several varieties of xylophones, drums, cymbals, gongs, and fiddles.
The 5-tone musical ensemble expresses the inner feelings and attitudes of the Khmer towards genies, nature, and other people. Almost every Khmer pagoda has a musical ensemble. In the past ensembles only performed in pagodas. Now they also play at festivals and parties.
Ly Danh is a Khmer living in Soc Trang Province: "With government support, the life of the Khmer has improved. Pagodas and communities have formed musical ensembles to perform in the community. They don't have to invite musicians from other hamlets. Each village, pagoda, or ward has a musical ensemble. We teach young people to play musical instruments in the ensemble."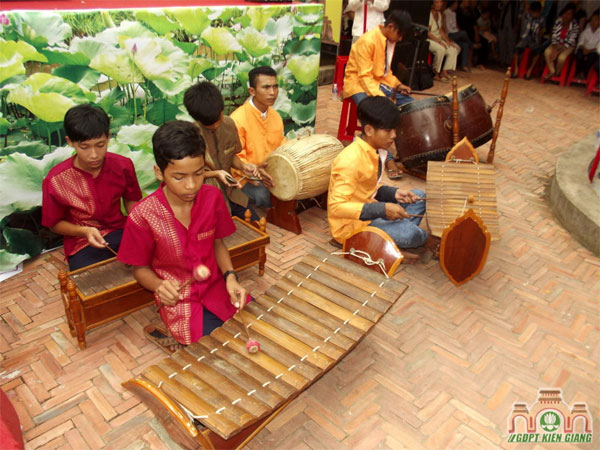 A 5-tone ensemble of young Khmer of Kien Giang Province.
An ensemble must have roneat – xylophones, which are considered the lead high-pitched instrument in the ensemble – and Skor-thom - two big drums played with drumsticks. There are also flutes, fiddles, and cymbals. To play in the ensemble, the musicians must have a deep understanding of Khmer music, tradition, and culture.
Ly Phat is a musical instrument maker in Soc Trang Province. "I have more than 20 years of experience in making 5-tone musical ensemble instruments. At first my products were not too good but I've steadily improved my skills. One must be able to play music in order to make the instruments."
Many Khmer pagodas have musical clubs and classes for children. They aim to inspire the children to learn Khmer music as a way to preserve it. Lam Quyet Thang is learning Khmer music at the Doi Pagoda in Soc Trang. "I've been learning 5-tone orchestral music for 3 years. It was difficult at first. I've practiced a lot and now find it easier. Now I can play more fluently."
VOV5