VietNamNet Bridge – To make a musical instrument is no less art than chiselling away at rock to make a sculpture. And an artisan from Dao Xa Village in the outskirts of Hanoi has spent a lot of time on the tough job.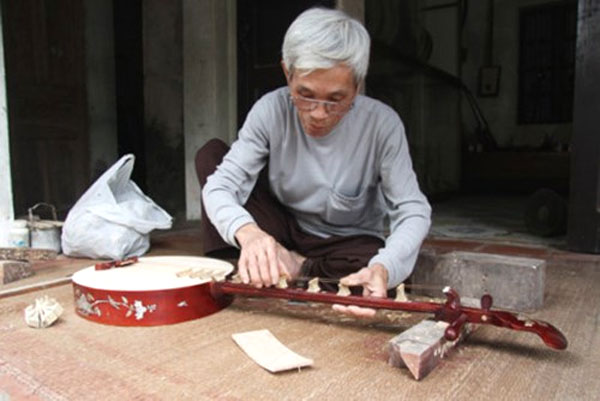 Artisan Dao Xuan Soan (Photo: VOV)
For more than 200 years, Dao Xa Village has produced numerous musical instrument makers, but their number has dwindled dramatically, with only one man left to carry the torch today.
Born into a long line of musical instrument makers, Dao Xuan Soan is a natural at bringing music to life.
Soan has devoted over 40 years to the art of crafting musical instruments. Despite a series of ups and downs, his little shop in Dao Xa Village has never failed to produce high-quality pieces of art.
According to Soan, who is now in his 70s, artisans in Dao Xa village originally flocked from North to South.
However, he reckoned that today's youth is losing interest, since the job requires an eye for beauty and patience.
Soan's son, Do Anh Tuan, who took on the artistic work after working as a driver, said the toughest part of the job is training as it takes time and more time to learn how to make all the instruments.
It doesn't take an enthusiast to appreciate the meticulous details in crafting traditional musical instruments.
Take the Vietnamese zither for example, the wood needs to be collected and then dried for nearly two years before it can be used. Next, a number of steps have to be followed, from making the resonator to crafting the pearl inlaid. It takes an average of three days for an artisan like Soan to make a single instrument.
Soan said the basic principle of making a perfect instrument is choosing the right wood and that an artisan has to know just by holding the piece of wood what kind of sound it will produce.
Musician Nguyen Van Lien has become a close friend of Soan after visiting and talking about the instruments with him many times.
Lien said he is very impressed by Soan's talent as his musical instruments have a unique sound, especially since he is not a musician himself.
People who love traditional musical instruments travel from far away to Dao Xa village just to buy a high-quality instrument made by Soan.
Vietnam is home to hundreds of traditional instruments, with no more than 30 being widely known, such as the monochord, the Vietnamese zither or the cylindrical drum.
The country's joining of regional economic integration and globalisation puts cultural wealth at risk of being forgotten. As such, artisans like Dao Van Soan are fighting an endless battle to conserve a traditional art form to protect ancient cultural values from being swept up in the current modernisation and industrialisation.
VNA