Many people in Saigon like to find a quiet place to read some book. Book Nest, a small bookstore with old and new books, is for those readers.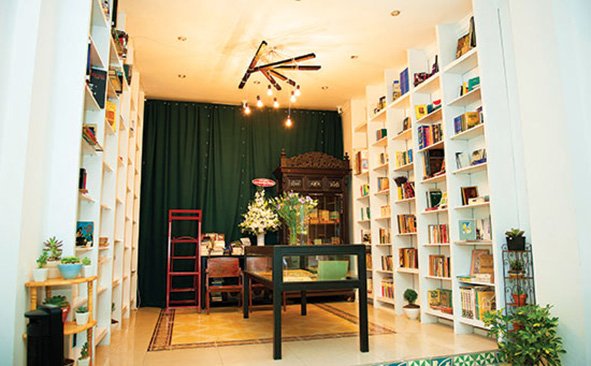 Book Nest in HCMC's Phu Nhuan District.
The idea of setting up this bookstore came to Nguyen Thi Da Thuong, a reporter based in HCMC, while she was in Bagan in Myanmar reading an article called "Nhung tiem sach ay bay gio o dau?" (Where are all those bookstores now?) by Prof. Ngo Bao Chau. She opened the place for people with the same hobby and to sell only carefully selected books.
Book Nest covers an area of 50 square meters at 53-C9, Road 11 (Mieu Noi) in HCMC's Phu Nhuan District. It reminds people of those old days thanks to the books' paper smell and brown pages and some old-style illustrations on the wooden shelves. People can relax in an old chair while listening to some melodies from an old cassette tape player.
Book Nest also hosts regular exhibitions of old newspapers, writers' autographs and drafts of poets, and other seminars of indoor tree caring and book binding techniques.
According to Thuong, she has been to similar bookstores overseas like the Book Actually in Singapore. "When I first entered Book Actually, I immediately felt a spiritual life of Singapore, even though a glimpse into the history of this country. I think that's what I need for my own bookstore. You can enter Book Nest and go home with none of your favorite books but there must be something about this place in your mind."
People might feel interesting to see a corner of "Lost & Found" at the bookstore where people can open a small trunk and see many people's notes telling stories about their lost items, books or music discs. Book Nest will try to find those lost things to put them back into the trunk for guests.
Book Nest is a comfortable place for guests to choose and read books. The shop owner welcomes all to her shop to find a place to relax, buy books and enjoy little happy things. Guests may be treated to free snacks like banana sweet soup, Hanoi's plums, and tea to join a cozy conversation with the bookstore owner.
SGT