VietNamNet Bridge – Dinh Van Long's passion for music and singing has never ebbed.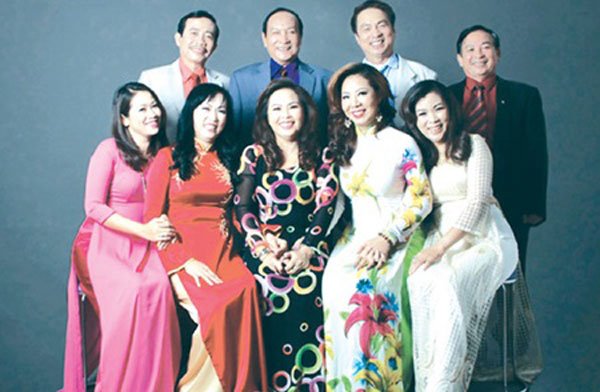 In their prime: Dinh Van Long, 57, of HCM City (first left, standing) will compete with eight finalists in the final round of the Tieng Hat Mai Xanh (Evergreen Voice) contest for amateur singers aged 35 and above, beginning tonight. — Photo Courtesy of MayQ Media
"I love singing and will continue singing until I cannot," said Long, a worker at the HCM City-based Viet Thang Textile Joint Stock Company.
Long, who began singing for a church choir at the age of 17, has performed at cultural activities organised by local authorities since 1975.
Two years later, he stopped his dream of being a professional singer to spend his life to take care of his family.
After nurturing his passion for several decades, he appeared in 2012, participating in Tieng Hat Mai Xanh (Evergreen Voice) contest for amateur singers aged 35 and up, organised by the HCM City Television and the MayQ Media Company.
"The contest continues my dream of standing on stage," said Long, who has taken part in the competition for four consecutive years.
"Fortunately, I entered this year's final round."
Like Long, many finalists are those who have taken part in the contest at least twice.
With experience and singing skills, the final nine showed their beautiful and strong voices to defeat more than 2,600 others in the preliminary and semi-final rounds.
MC Quynh Huong, who has hosted the programme since it began in 2011, said that he as one of the contestants had shown "passion and youthfulness in their performances."
In the final round, the contestants will be divided into three groups of three people aged between 35 and 50, between 51 and 65, and 66 and up.
They will sing romantic, folk and revolutionary songs in three shows to be broadcast live on HTV9 every Friday nights, beginning tonight.
The jury board consists of composers Tran Long An, Phan Huynh Dieu and Phu Quang, and the director of the city's Conservatory of Music, Van Thi Minh Huong.
Based on the judges' score and the audiences' votes, the winners of each group and the second-placed contestant with the highest score of all groups will enter the grand finale at Lan Anh Club in District 10 on July 3.
They will be required to sing a solo and perform in a duet with a professional singer.
The winner will receive a prize of VND100 million (US$4,700) in cash and gifts.
Musician Phan Hong Son, head of the HTV's arts and literatures department, said: "The contest is well-known in the country. Older people nationwide have an opportunity to meet, sing together and share their stories."
Tieng Hat Mai Xanh attracts from 1,000 -1,500 people each event.
"It is a chance for us to sing in front of audiences," Long said, adding that in the past, he just stayed at home or went to karaoke stores to sing with his family and friends.
Le Do Yen Huong, CEO of MayQ, said her company had received many suggestions from local television stations about the contest, especially for those who cannot travel far.
"With their voices and passion, participants in Tieng Hat Mai Xanh have left an inspiring and insightful message for other people," she said.
Source: VNS