VietNamNet Bridge – Calligrapher Le Trung Kien has taught Han (Chinese script) and Nom (Vietnamese ideographic script) for 10 years for free. He founded Nhan My Hoc Duong (Nhan My School of Calligraphy), which has gathered many leading Han Nom experts as visiting lecturers. Many people have graduated from the school, contributing to preserving and promoting Han Nom script.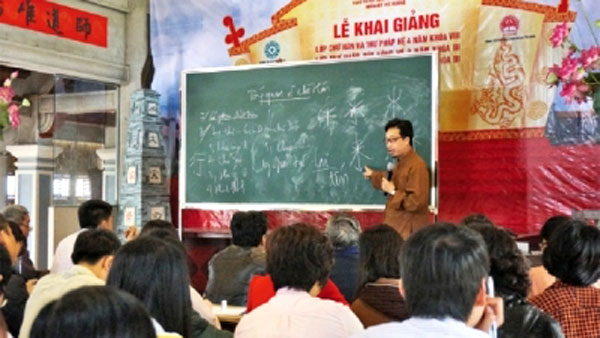 Le Trung Kien and students in class 
In recent years, Le Trung Kien has become a popular name in the circle of Han Nom researchers with his penname Yen Son. Contrary to popular belief, Kien did not receive an official education in Han Nom. Kien is a graduate from the faculty of Linguistics under the University of Social Sciences and Humanities and is now working on the Government Committee for Religious Affairs.
As a linguistics student, he recognised the beauty of Han Nom script, realising that it was a good way to discover the country's history. Acknowledging that studying Han Nom script was vital to fully exploring Vietnamese culture, he decided to learn the ancient Han script. However, it was not easy for him to find a Han Nom class in Hanoi in those days. Without formal classes available and with little money, Kien decided to learn Han Nom by himself.
With his name known among Han Nom lovers since 2000, he is willing to teach Han Nom to anyone who has a love for this script, for free. The biggest difficulty he faced when opening Nhan My Hoc Duong was location. He asked for help from the abbot of Nhan My Pagoda in Me Tri ward, Nam Tu Liem District. In response, the abbot said "If you are kind-hearted enough to teach Han Nom for people for free of charge, how can I not support you". That marked the establishment of Nhan My school in 2005.
In the first three years, Kien was the only teacher, providing two classes each week. The classes were usually held all day Saturday and Sunday. During the afternoon break, Kien and his students were often provided with free food to cook a vegetarian lunch at the pagoda.
In those days, Han Nom did not receive much attention from people. Sometimes Kien had to personally text message his students to urge them to go to class. He even gave lessons when there was only one student in the class.
However, Kien never worried that Nhan My Hoc Duong may close one day ─ as long as the Vietnamese language use vocabulary from Han Nom, there is still a need for Han Nom. And he is not wrong. To date, Nhan My Hoc Duong provides two courses each year, one teaching Han Nom for beginners and the other teaching calligraphy.
Nhan My Hoc Duong has drawn the participation of many Han Nom experts, calligraphy masters and senior researchers such as Doctors Nguyen Van Anh, Lo Lan and Xuan Nhu Vu Thanh Tung. Each of them are professionals elsewhere, but they come to the Nhan My Hoc Duong as a venue to fuel their passion for Han Nom.
They realise that the educational mission of Nhan My Hoc Duong is not for profit, but to convey the beauty of the script, the traditional culture, and human behaviour as well as to nurture personality and ethics among learners, said Le Trung Kien.
Nhan My Hoc Duong is currently running two additional classes at Tu Ky Pagoda in Hoang Mai District. Its classes have attracted more and more learners. The recently-opened class on Han Nom in April had 87 registrants.
Participants in these classes are from various social backgrounds ─ many of them are students, many others are retirees. The youngest is a fourth-grade student. These special leaners provide the motivation for lecturers, who always bear in mind that it is important to teach not only knowledge, but also the cultural beauty of our ancestors to students.
Nhan Dan