VietNamNet Bridge - Thang Long Tu Tran are four sacred temples built to defend the four directions (East, West, South, North) of the ancient Thang Long capital city. The temples are considered the spirits of Hanoi.
Bach Ma (White Horse) Temple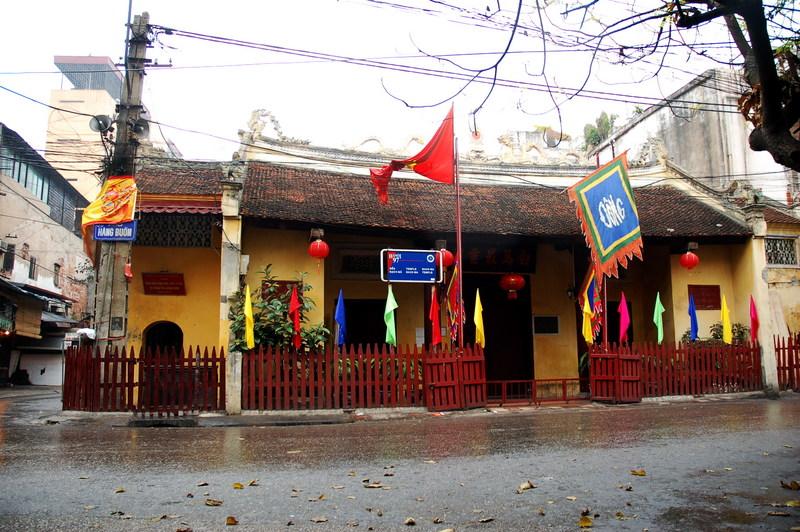 Bach Ma Temple is located at 76 Hang Buom Street, Hoan Kiem District.
Located in the center of Hanoi's ancient quarter, Bach Ma temple is an isolated religious relic that runs along a long, narrow path from its facade on Hang Buom Street to the back door on Ngo Gach Street.
According to its existing steles, Bach Ma underwent large scale renovations during the reign of Le Chinh Hoa (1680–1705) and was further repaired in the 20th year of the Minh Mang reign (1820-1841). The temple was enlarged and had its own shrine, steles, and square pavilion which made it a more solemn place. The temple was again renovated and upgraded in the year 2000.
The temple has a wooden framework with big iron-wood columns. The rafters join to form a weight-bearing structure and an art-work abundant in decorative carvings. The incense-burning house has a carapace-shaped roof.
Bach Ma Temple is a unique architectural construction and one of the four district gate temples of ancient Thang Long. The district gates and their temples are located at the four compass points of the city: Quan Thanh Temple to the north, Bach Ma Temple to the east, Kim Lien Communal House and temple to the south, and Voi Phuc (kneeling elephant) Temple to the west.
Among these temples, Bach Ma is the oldest and its existence has been documented over one thousand years since the Ly and Tran Dynasties. Today it contains many valuable relics. Along with architectural and artistic merit, Bach Ma Temple is also a valuable resource for researching and studying the history of Thang Long–Hanoi.  
Voi Phuc (Kneeling Elephant) Temple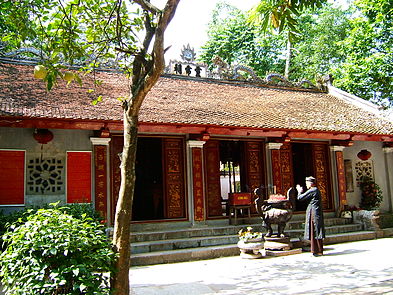 It was built in 1065 during the Dynasty of King Ly Thanh Tong in the former Thu Le Village, western Thang Long Citadel (today located near Kim Ma Street and Thu Le Zoological Garden in Ba Dinh District).
The Temple is dedicated to Royal Highness Linh Lang, the son of King Ly Thanh Tong who was the western guardian god of the Thang Long Citadel.
Despite many challenges and restorations, Voi Phuc Temple retains its ancient and beautiful architecture. It has become an indispensable part of Hanoi, attracting many domestic and foreign visitors.
Kim Lien Pagoda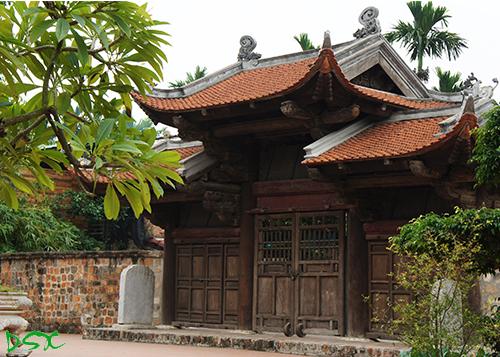 Kim Lien Pagoda is situated in Quang An Village, Tay Ho District. Built on the Nghi Tam Peninsula on the bank of West Lake, Kim Lien Pagoda originally belonged to the area of the former Tu Hoa Palace of the Ly Dynasty.
According to history, the Ly Than Tong King had a daughter called Princess Tu Hoa. He built a place which was named for his daughter Tu Hoa. He let Tu Hoa and her imperial maids stay in this palace in order to give her a lesson of understanding and respect for their social positions.
Kim Lien was designed with three pavilions, each of which has two roof layers. These pavilions were also built in slightly curved shapes. In addition to its nice disposition, the gate of Kim Lien Pagoda is also a symbol of sophisticated and elegant architecture.
Among the temples and pagodas in Hanoi, Kim Lien Pagoda is considered one of the magnificent pagodas that retain its ancient architecture.
Over the years, the pagoda has been renovated several times, with major renovations in 1445, 1631, 1639, 1771, and 1792. This information is all carved on steles. In 1983, the pagoda was renovated but still retains architectural features of Tay Son times (the 18th century).
Quan Thanh Temple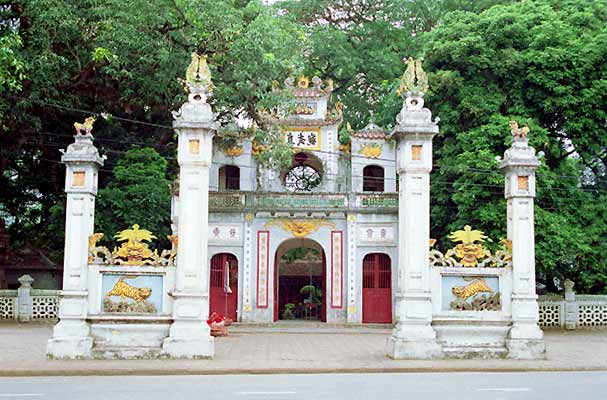 Quan Thanh Temple is located at the crossroads of Thanh Nien Street and Quan Thanh Street, near West Lake, Ba Dinh District. Built during the reign of King Ly Thai To (1010-1028) and renovated many times, the temple is also called Tran Vu temple, since it is dedicated to Huyen Thien Tran Vu (Guardian of the North of the Country).
Quan Thanh temple is an important historical and cultural place in Hanoi. According to legend, Tran Vu is a figure who helped King An Duong Vuong chase away demons during the construction of Co loa Citadel. The temple first existed in the south of the To Lich River (1160) but then was moved to the Northwest of the capital (the present site) (1474). Quan Thanh temple attracts visitors for its famous beautiful structure and religious cultural place.
Quan Thanh temple is also renowned for woodcarving. Many wooden structures in the temple were carved skillfully with different shapes and patterns such as four sacred animals, fish, fir trees, bamboo trees, flower baskets, swords and daily activities on heaven and earth.
Pha Le