VietNamNet Bridge – Many people have shown their fearfulness, compassion and dudgeon over a video clip of a pig-chopping ritual at a traditional festival in Hanoi's neighboring province of Bac Ninh.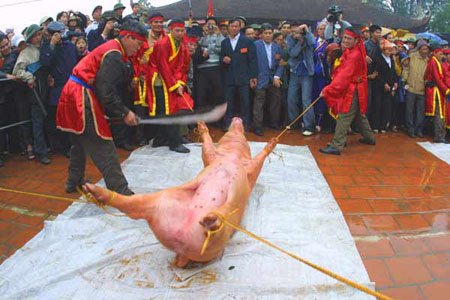 The video clip was uploaded to YouTube several days ago. The clip filmed a live pig which was forced to lie on its back, four legs were roped and spread to four sides. The pig was carried to the yard of a communal house, surrounded by a frenetic crowd.
After performing some rituals, a man held a long knife and cut the pig in two parts after three stabs. Blood streamed out, dying the yard in red in the shouting of the crowd, including many children.
This clip is said to film a pig offering rite at a traditional pig chopping festival in Nem Thuong hamlet, Khac Niem commune, Tien Du district in Bac Ninh province. This festival is held to commemorate a general in the Ly Dynasty, who reclaimed this land. According to legend, the general brought his troops ton this land and slaughtered wild boars to feed his soldiers. The pig-chopping festival originated from this. Pig blood in the festival is believed to symbolize prosperity, reproductive ability, vitality and good harvest.
The video clip was removed from YouTube for violating the page's rules. However, it has been copied by some websites and made the online community angry. A group named "Calling for ban on the pig chopping festival in Tien Du – Bac Ninh" was set up on Facebook and has attracted hundreds of members.
Many people could not believe that such an awful festival still exists in Vietnam. They called for reconsidering the humanity of this festival, though it is a traditional event.
"No, no, culture is good traditions. Such cruel tradition is not culture," one wrote on an online forum. This opinion is agreed by other members.
Many people also worried about the bad impacts from this festival on kids.
PV