Indian girl's love for disabled kids through paintings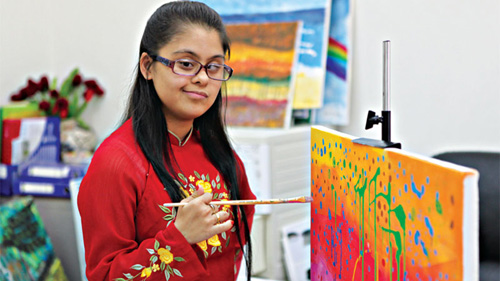 An exhibition entitled 'Into Karishma's World' of Indian girl Karishma Kannan is set to take place at Sheraton Hotel in Ho Chi Minh City on March 27 as a fund raiser for underprivileged children in HCM City.
24-year-old Kannan was born with the intellectually challenging condition, Down syndrome, and all her developmental milestones were delayed.
Karishma and her family moved to Vietnam for her father's job in 2008.
An accidental meeting with English teacher Cyndi Beaumont, who is also an artist, changed Kannan's life.
With Beaumont's help and guidance she discovered that she had a talent for art, and also that when she paints and draws it improves her concentration skills, something that is notoriously difficult for Down's sufferers.
Each place she visits in Vietnam or neighbouring countries becomes a favourite place - Ha Long Bay, Nha Trang, Hanoi, Bali and so on. And her memories about these places find expression in her paintings.
She also earlier donated all the money to handicapped children from her two charity painting exhibitions "Sharing the Miracle – Karishma – I can, you can, we can" in 2011 and "Karishma – Colors of love".
Flower street to welcome National Tourism Year
A flower street will be organised to welcome National Tourism Year in the northern province of Thanh Hoa.
The flower street, which will be located on Le Loi Street, will be decorated to feature Vietnamese heritage.
Many other events such as traditional village market and flower market will be organised.
The opening of the National Tourism Year is scheduled for April 3 in Thanh Hoa City's Lam Son Square.
Germany celebrates 40 years of ties with Viet Nam
A festival to celebrate the 40th anniversary of Viet Nam and Germany's relationship will be organised on Sunday in Ha Noi.
Visitors will have a chance to learn about Germany's culture, cuisine and music.
At night there will be a performance from the Raggabund band.
Hanoi to host watercolour exhibition
The Vietnam Fine Arts Museum has announced that 46 works by 23 artists from Malaysia, Vietnam and Thailand have been selected for an exhibition presenting a cross-section of Asian contemporary watercolour.
The first of its kind exhibition will be held April 4-7 at the museum in Hanoi and profile both established and emerging artists living and working in the three countries.
The idea is to showcase Asian artists' latest work in water-based media to give prominence to using watercolour in Asia as well as another media in which they make artwork such as oils, print and photography.
The artists will also attend an exhibition to be held at a later date in Malaysia.
Ethnic events to welcome IPU 132 Assembly
The Cultural Tourism Village of Vietnamese Ethnic Groups has planned a large number of spectacles to showcase the traditional customs and festivals of the nation's ethnic minority groups during the 132nd Inter-Parliamentary Union (IPU) Assembly.
The events, to be held on March 27-29 are part of festivities celebrating Vietnam Ethnic Minority Cultural Day (April 19) and have been timed to coincide with the 132nd Assembly of the Inter-parliamentary Union (IPU-132).
Many fascinating art performances have been scheduled along with an interesting exhibition featuring the Muong ethnic minority Sac Bua festival and the Nung ethnic minority Cau mua (praying for a bumper crop) festival.
In addition other events will cast the spotlight on the Ma ethnic minority Yang Koi festival, Giay ethnic minority wedding cerebration and the Cham ethnic minority Rija Praung (Cham New Year) festival.
The events are expected to attract the participation of more than 500 people from 26 ethnic minority groups from throughout the country.
Vietnamese culture, landscapes featured in Mozambique
Vietnamese culture, tradition and landscapes have been vividly depicted on 40 large photos on display in Maputo, Mozambique from March 23-28.
The event kick-started a wide range of activities marking the 40th anniversary of diplomatic relations between Vietnam and Mozambique (June 25, 1975).
Opening the event, Vietnamese Ambassador to Mozambique Nguyen Van Trung introduced UNESCO-recognised Vietnamese landscapes as well as local culture and festivals to diplomatic officials, representatives from international organisations, city authorities, local friends and the overseas Vietnamese community.
Maputo representative Chadreque praised the art works taken by photographers Viet Thanh, Hai Thinh and Le Bich, saying the photos made a strong impression on him and visitors.
The works feature Vietnam as a country with unique beauty, cultural diversity and peaceful and friendly attitudes.
The photos will be showcased around Maputo and in other cities to reach international friends in Mozambique.
PM urges developing private medical services to reduce hospital overload
Prime Minister Nguyen Tan Dung has instructed drastic measures to facilitate the development of private healthcare services in an effort to reduce patient overload in hospitals.
"All obstacles to expansion of private hospitals and clinics should be removed," the Prime Minister said at a recent meeting on the implementation of the 'Reducing patient overload in hospitals from 2013-2015' project.
The PM also encouraged applying IT and advanced technology in medical examinations, hospital management, electronic medical records, and health insurance settlements.
It is necessary to step up the application of self-governing mechanisms in state-owned hospitals, he added.
The PM underlined the need to improve healthcare at the grassroots level through establishing satellite hospitals and clinics at all provinces and cities.
At the same time, he urged relevant agencies to accelerate the ranking of all hospitals both State-run and private based on service quality, with the goal of publicizing the rankings of central-level hospitals in the first quarter of 2016.
According to a report by Minister of Public Health Nguyen Thi Kim Tien, over the past two years, an additional three central-level hospitals have become operational, 172 wards have undergone renovations and nearly 4,000 beds have been added.
The nation has opened 116 new hospitals, re-built 1,667 provincial and district-level wards, and offered 15,535 new beds.
The ratio of beds per 10,000 population hit 28.1 in 2014, an increase from 24.7 in 2012, but the ratio is still below that of other countries in the region and the world.
The country currently has 1,182 hospitals, of which 168 are private facilities.-
Exhibition features Uncle Ho in cinematography and stage
An exhibition, themed 'President Ho Chi Minh in Vietnamese revolutionary cinematography and stage', opened on March 25 at the Thua Thien-Hue province's Ho Chi Minh Museum.
The exhibition displays 200 photos, documents and artifacts, along with precious movies and stage plays related to Uncle Ho.
The exhibits are divided into three parts: President Ho Chi Minh in Vietnamese revolutionary cinematography and on stage; Ho Chi Minh in cinematic works and stage scripts; and Thua Thien-Hue and its promotion of Ho Chi Minh in cinematography and stage.
Many movies and stage plays were inspired by the ten years that President Ho Chi Minh lived and studied in Hue (1895-1901 and 1906-1909), according to Director of Thua Thien-Hue provincial Department of Culture, Sports and Tourism.
The event is expected to contribute to introducing the films, movies and plays related to the life and career of Uncle Ho to people of all strata.
The exhibition, part of activities to mark 40th anniversary of Thua Thien-Hue's Liberation Day (March 26, 1975–2015), will run through April 30.
Twelve comedians chosen for Viet Nam reality TV show
The first Vietnamese reality-TV contest for comic actors, the Cuoi Xuyen Viet (TransViet Laugh 2015) show, has chosen 12 contestants among a field of 1,000 for the final round to be televised in April.
Ngoc Giau, renowned comic actress, one of the judges of the contest, said the "12 individuals have 12 different characteristics and talents".
Giau, and two other well-known comedian Kieu Oanh and Tran Thanh, will be the jurists for the final round.
They all praised the 12 competitors for their charming acting, which was considered better than some professionals.
"The contest aims to seek and also train young talents for the professional comedy stage," Vu Thanh Vinh, producing director of Kmedia, the organiser of the programme, said. "Famous comic actors will help contestants with scripts and acting."
The final round, which will include seven nights of competition, will be broadcast on THVL1 channel at 9pm on Friday beginning on April 10.
Television concert to feature old songs
The monthly concert Giai Dieu Tu Hao (Melody of Pride) will be broadcast live tomorrow on Viet Nam Television's Channel 1, featuring the theme Dat Nuoc Loi Ru (The Country's Lullaby).
The theme is also the name of a number that will be sung at the concert. The other songs that will be performed include Me Yeu Con (Mother's Love); Ru Con Mua Dong (Winter Lullaby); Mau Hoa Do (Colour of the Red Flower); and Huyen Thoai Me (Mother Legend).
The song Me Yeu Con was composed by Nguyen Van Ty in 1956. It is a popular song that has become a symbol of maternal love. The composer used the northern area's lullabies and emotional lyrics to compose a song that is memorised by several Vietnamese mothers.
The song is normally performed by a female soloist. This time, the concert's music director Quoc Trung has revitalised the song by using two female singers.
The highlight of the concert will be the song Ru Con Mua Dong that will be performed by veteran singer Ai Van.
The song is part of a 22-song collection composed by Dang Huu Phuc for Ai Van.
"I sang the song for the first time in 1987. I was young then and lacked the experience of feeling maternal love. However, it's my best memory," Ai Van said.
The television show Giai Dieu Tu Hao (Melody of Pride) features songs that are making a comeback with the younger generation in Viet Nam.
The show is produced by Viet Nam Television, based on the format of a Russian programme entitled "National Treasures". 
VNA/VNS/VOV/SGT/SGGP/Dantri