VietNamNet Bridge – Actors from the IDECAF theatre in HCM City will travel to the US to perform Hop Dong Manh Thu (Devil's Contract) from April 8 to 20, following the success of several other Vietnamese plays performed there.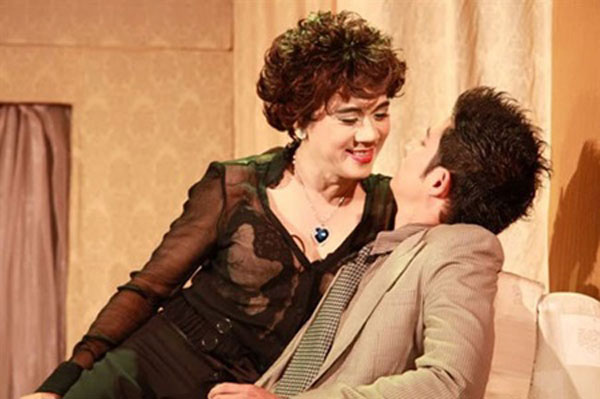 Cross-generational: Actor Thanh Loc (left) and Huy Khanh star in the play Hop Dong Manh Thu (Devil's Contract) which will be staged in the US in April. — Photo kichidecaf.com
Written by Le Hoang and directed by Vu Minh, the tragicomedy focuses on love and money. It depicts cross-generational tensions – the challenges urban youth face in preserving the country's traditional values while living modern lives.
The story is quite simple. Two young people who work at a company on the verge of bankruptcy have to meet a rich businessman in HCM City and convince him to sign a contract to help the company overcome its financial difficulties. While they wait for the businessman in a luxury hotel, they decided to pay for prostitution services. They then enlist the woman to help them get the contract signed by offering her body to the businessman. Then, at the end, a bitter truth is revealed.
The play did very well in its run in HCM City, and is expected to please Vietnamese people living in the US. It is performed by seven actors: Thanh Loc, Duc Thinh, Luong The Thanh, Tuan Khai, Vu Minh, Huynh Anh Tuan and Cao Minh Thu.
However, Huynh Anh Tuan, IDECAF's director, said he was a little worried about the play's success because overseas Vietnamese often expected traditional plot themes in Vietnamese plays.
"A common thing Vietnamese audiences living in the US feel is nostalgia," said Vietnamese director Hung Lam, who has lived in the US for several years. "Therefore, traditional themes like nostalgia for the homeland, forced marriage...along with traditional images of ao dai (traditional dress), ao ba ba (traditional cloth of Vietnamese women in the South) and bamboo hedges have pleased them a lot."
Pre-war music
They are also often moved by pre-war music or romantic novels by Tu Luc Van Doan (Self-Reliance Literary Group), a literary movement that produced the first modern novels in Viet Nam and initiated a new wave of poetry shaped by nationalist ideology, Lam said.
When audiences expect these traditional themes, a play with such a contemporary bent could take them by surprise, said Huynh Anh Tuan, IDECAF's director.
"We believe in the versatile talent of Thanh Loc and of the other actors, which can attract audiences to the play," he said. Several Vietnamese plays have already won fame in the US.
In 2008, Ong Ba Vu (The Couple of Nurses), staged by HCM City's Nu Cuoi Moi Theatre and starring comedian Hoai Linh, was the first one presented in the US. In 2009 and in 2011, director Nguyen Minh Ngoc co-operated with the US's Pan Asian Repertory Theatre to bring import two plays she wrote: Nguoi Dan Ba That Lac (Lost Women), Chung Toi La (We Are) to Off-Off Broadway in New York.
Lam said audiences could often not understand the actors when they spoke quickly.
"When I play in the theatre, I've often tried to speak quite slowly," he said. "The audiences appreciated it very much and told me that they wanted to see more of Viet Nam's plays."
Author-director Ngoc said she was optimistic about the future of Vietnamese plays in the US, where they could touch the hearts of expat Vietnamese audiences. But Vietnamese artists needed to put in more effort.
"The Pan Asian Repertory Theatre where I worked is still waiting for new plays from Viet Nam," she said. "I've called Vietnamese authors to present me their scripts. This might not motivate them, actually, because they think about how they have to pay to have the plays translated from Vietnamese to English."
Source: VNS