VietNamNet Bridge - "The pig-chopping festival has been a traditional event for hundreds of years for the villagers of Nem Thuong, so it is not easy to stop it immediately," the deputy director of the Department of Culture of Bac Ninh Province has said.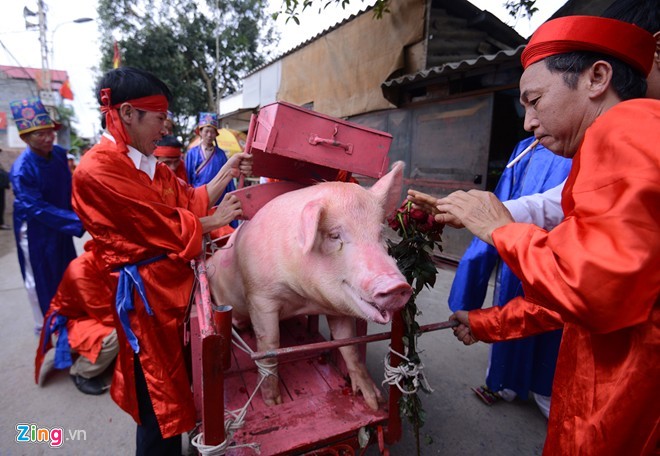 Nguyen Van Anh, the Deputy Director of the Department of Culture, Sports and Tourism of Bac Ninh, told zing news that the department had held a meeting before the festival with local communities about the renaming of the festival from "pig chopping" to "pig parade" and slaughtering the pigs in the backyard (rather than the front) of the communal house.
The village's elders opposed the proposals, saying that Nem Thuong villagers were keen to maintain the traditional rituals of the festival, especially the pig-chopping rite.
On the morning of the 6th lunar day, the villagers of Nem Thuong (Bac Ninh Province) performed the pig-chopping ritual at the court of the communal house as usual, despite fierce debates about the practice.
Anh said the festival has been a tradition for hundreds of years of Nem Thuong and it difficult to remove the ritual immediately.
He said that previously the festival took place within the village, once a year, and the image of the pig-chopping rite was witnessed by the locals only.
Today, due to the development of digital communications, the image of the ritual has been widely spread and there have been different reactions. Many argue that it is cruel and it must be removed, and others argue that the tradition must be maintained.
"We cannot ban the festival by administrative measures if the festival does not violate the law and is not contrary to the needs and beliefs of the people of Nem Thuong Village," said Anh.
For immediate solutions, he said it is necessary to ensure security at the festival and to prevent people from wiping their money on the pig's blood.  In the long term, the local authorities will encourage and call for the local elders to change their ideas about the pig chopping rite.
"Let the people change their awareness themselves; we can not compel or interfere with their beliefs," he said.
On Jan 1, the Animals Asia Foundation sent an open letter calling for the authorities of Bac Ninh Province and the Ministry of Information and Communication to stop the pig-chopping festival at Nem Thuong village.
On Feb 24, after the festival took place, Nguyen Dinh Loi, the chief of the Elderly Association of Nem Thuong Village, said: "The village elderly said that the festival is the village's task and the pig-chopping ritual does not violate the law, so let the villagers make their own decision. We want to keep the identity of our ancestors."
A day later, Nguyen Thanh Tam from Animals Asia, said: "We are very disappointed that the organizing board of Nem Thuong village festival decided to keep the pig-chopping rite."
T. Van