VietNamNet Bridge – The Animal Asia Foundation (AAF) has launched a campaign calling for an end to the pig-chopping festival in Nem Thuong village in Bac Ninh province, which is usually held on the sixth day of the lunar new year.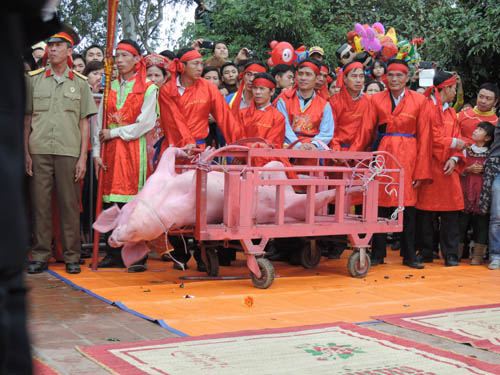 The pig chosen as the sacrifice in the pig-chopping ceremony in Bac Ninh. Photo: AAF
In an open letter released on January 27, AAF launched a campaign to seek signatures to call for authorities in Bac Ninh and the Ministry of Information and Communications to issue regulations to put an end to the traditional pig-chopping festival in Nem Thuong village of Tien Du district.
Each year, on the sixth day of the lunar new year, Nem Thuong villagers organize a festival to honor their local guardian deity, Doan Thuong. The celebrations include traditional festival features such as a march and live music, and one part of the ceremony is the pig-chopping rite.
A live pig is shuttled around the village before being placed on the ground on its back. Assistants hold ropes attached to the pig's legs, spreading the animal's appendages apart to expose its belly. A man wielding a large blade then chops the pig in half, and the villagers rush to smear the blood on bank notes, hoping for good luck in the new year.
AAF said this is considered a cruel festival, which has been condemned by individuals and organizations inside Vietnam and abroad. This activity not only affects the human psyche, but also economy and society, in particular, the tourism industry and the image of Vietnam.
In the past two years, AAF has repeatedly sent dispatches to the Ministry of Culture, Sports and Tourism, the People's Committee of Bac Ninh and related agencies to call for an end to this activity.
Tran Thanh