A series of traces revealing the most sufficient evidence of cultural layers dating from the 11th century to 20th century have been detected in the Kinh Thien Palace of the Thang Long Imperial Citadel's central section.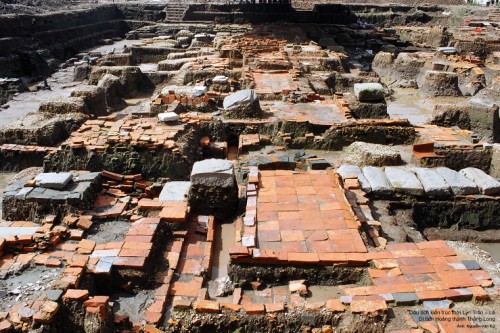 According to information released by the Thang Long-Hanoi Heritage Conservation Centre and the Institute of Archaeology at a seminar in Hanoi on December 16, recent archaeological excavations in the section uncovered major architectural vestiges of the Ly Dynasty (the 11th century) and dynasties afterwards, including wall foundation, brick-paved yard, especially a big water supply and drainage system.
Besides, excavators unearthed parts of the Palace, overlapped by cultural layers of the Le So (1428-1528) and Le Trung Hung (1533-1789) dynasties. Architectural traces from the Tran Dynasty (the 13th century) were also found, but they were damaged seriously.
Most of archaeological findings are various kinds of architectural material, especially green and yellow glaze roofing tiles of the Le So period.
Phan Huy Le, Chairman of the Vietnam Association of Historical Sciences said the results of the excavations do not only help specify cultural layers but also show where the centre of the Citadel is, and provide a comprehensive view on the architecture of the Citadel.
At the seminar, representatives from the Centre and the Institute suggested further archeological excavations towards the relic site's East to discover more architectural vestiges in the time ahead.
The Thang Long Imperial Citadel was built in the 11th century by the Ly dynasty, marking the independence of the Dai Viet. The Royal Citadel's central section was listed in UNESCO's World Heritage Site on July 31, 2010.
VNA/VNN