VietNamNet Bridge – A craftsman waiting to be saved from floodwaters sees the Enlightened One in floating bamboo roots and finds himself pursuing a new vocation. Nguyen Ha Nam calls on the artist and listens to his story.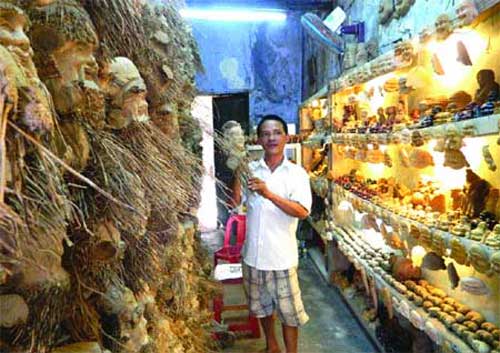 Staying rooted: Huynh Phuong Do has become well-known for his unique bamboo-root carvings. 
In recent years, Huynh Phuong Do has become quite famous among tourists in Hoi An City for his unique bamboo root statues.
In an old quarter on the banks of the poetry-inspiring Hoai River, Do, 41, has sculpted thousands of statues of the Buddha as well as other famous world personalities from bamboo roots.
After hearing a lot about him, I went to his house on Tan Thanh Street in Cam An Ward to get a first-hand look at his work.
Born to a family with a tradition of teaching as a career, Do showed his interest in sculpture even as a child. During his free time, he would visit Huynh Suong, the renowned artisan, at his home to learn the trade. With expert instruction, creativity and industry, he developed himself into an adept sculptor.
However, after two years of sculpting, he felt discouraged because his works failed to provide a stable income. So Do moved to the central city of Da Nang and took on various jobs.
He worked as a stevedore, motorcycle repairer and cake peddler. Although the jobs were tough and demanding, he managed to find time to create wooden sculptures and indulge in his passion.
After getting married, Do returned to Hoi An and opened a carpentery shop, but was not successful because he lacked the capital needed to compete with other shops.
In 2002, floods submerged his home. Do and his family had to climb up to the roof and stay there to avoid being swept away by the rampaging floodwaters. It was then that he had an epiphanic moment.
"I saw some bamboo roots drifting along in the floodwaters, and suddenly, the idea of using the roots to make statues of historical figures with a long beard flashed though my mind," Dorecalled.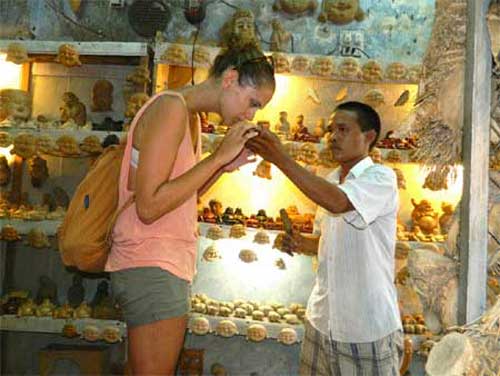 Smells good: Many foreign tourists evince keen interest in Do's work.
The following morning, Do used banana tree raft and rowed around the flooding areas, searching for bamboo roots.
"Many people called me a mad man when they saw me completely wrapped up in my sculptures made out of bamboo roots," he said. But Do was determined to make his idea become a reality, so he ignored the comments.
In time, and after a lot of hard work, Do's talent found expression in unique bamboo root sculptures.
Do toured city streets on his bicycle to peddle his wares and ended up fascinating tourists shopping for souvenirs. He decided to spend more time designing other sculptures.
After focusing on bamboo root sculptures for two years, Do was able to upgrade the quality of his works, which were becoming more and more popular among tourists.
In spite of its modest appearance, Do's souvenir shop on a corner leading to the Hoi An Market receives hundreds of tourists, especially foreigners, every day.
Do's works are also sold at famous tourist sites across the country. He receives several dozen orders every month from different localities nation-wide.
During Tet (Lunar New Year) or other public holidays, Do hires more workers to meet demand, but often runs out of souvenirs to sell.
"Some residents have tried to copy my work, but have not managed to sell more than a few. However, my shop is not able to keep with demand," Do said.
Chiselled features: Do can carve 20 bamboo roots per day, but often spends a day or even a week on creating unique models.
Apart from the sculpting, seasoning his faw material was a master stroke. According to Do, the roots must be submerged in mud for six months and all of the gravelly soil washed off carefully. The roots should then be dried for about 10 days before they can be used for sculpting.
Do can carve 20 bamboo roots per day, but often spends a whole day or even a week on some unique models.
Accordingly his works can cost anywhere from VND100,000 to millions of dong, depending on their size and time needed to make them. He estimates that he now earns about VND500 million (US$23,800) in profits every year.
Although Do failed to complete his high school education and never studied at any language centre, he can speak several language quite well, including English, Chinese, Lao, Khmer and Thai.
Do said to entrust the shop in Hoi An to his wife and open another in Da Nang City. He also hopes to sell his works abroad.
Over the past 10 years, Do has been able to create jobs for dozens of local youth, including some disabled. At present, three trainees are working at his shop and are each receiving a VND5-million ($230) salary.
Amidst all his success and future plans, one thing niggles at and worries Do.
He says he has not found so far a trainee with a real passion for sculpture - someone for whom the craft is more than means of livelihood.
VNS/VNN