VietNamNet Bridge – Hanoi's Old Quarter is known as an ancient urban heritage, associated with the formation and development of Thang Long – Hanoi, with a range of handicraft and trade activities making up guilds featuring the peculiarities of the capital's residents.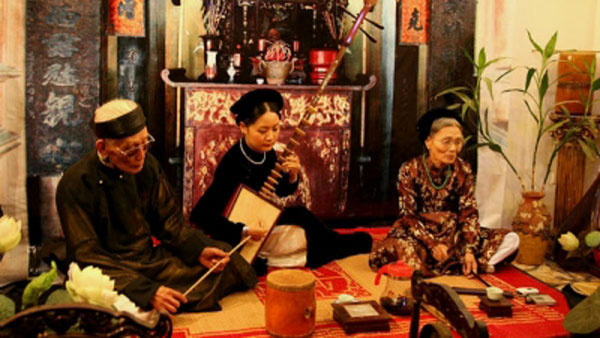 Performing ca tru (ceremonial singing) at Hanoi's Old Quarter. 
The unique characteristics helped the Old Quarter to be recognised as a national historic site in 2004. Hanoi authorities established a project management board in 1995, tasked with preserving and restoring valuable cultural heritage values of the Old Quarter.
Conservation of Old Quarter architectural values
Hanoi's Old Quarter, boasting a total area of 81 hectares, is located on ten wards of Hoan Kiem district: Hang Bac, Hang Buom, Hang Bo, Hang Bong, Hang Ma, Cua Dong, Ly Thai To, Dong Xuan, Hang Gai, and Hang Dao.
Along with development in each period of the nation's history, the Old Quarter wears a cultural signature typical of many periods. As a meeting place for residents from all parts of the country, the Old Quarter has a rich and diverse source of tangible and intangible cultural heritages.
Visitors to Hanoi can still breathe the urban space of an ancient town with specific craft streets called 'Hàng', a network of markets, a system of valuable architectural and religious relics, and special tube houses suitable for both business operations and living space.
To preserve the Old Quarter's architecture, the Management Board of Hanoi's Old Quarter has promoted co-operation with international organisations and scientists to study the historical and cultural heritage values of the site for conservation and development. Many tangible heritages such as the ancient house at No. 87 Ma May street and monuments such as No. 38 Hang Dao, No. 28 Hang Buom, and No. 42 Hang Bac, have been renovated.
In addition to improvement of single buildings, Hoan Kiem district also invested in urban infrastructure development for the Old Quarter, including improving urban lighting systems; paving stone and laying underground drainage on 72 streets in the old town; opening pedestrian streets; conducting architectural embellishment for Ta Hien and Lan Ong streets; and carrying out site clearance and relocation of residents for the restoration and renovation of heritage buildings in the Old Quarter.
However, Hoan Kiem district leaders acknowledged difficulties during the preservation of Hanoi's Old Quarter due to a dense population and residential infrastructure deterioration. According to statistics, there are 570 households with 2,152 inhabitants living in mixed temples, offices, and schools. An additional 1,623 residents are living in dangerous houses and need to be relocated, while 200 with special values need to be preserved.
The process of urbanisation, the increasing demand for a modern life, and the strong development of tourism have also made a direct impact on local landscapes and cultural beliefs. In particular, the preservation of architectural heritages during the rapid urbanisation makes the issue difficult to handle.
Hanoi's Old Quarter is characterised by a residential density of 823 persons per ha, at a total of more than 10, 000 people. With a high population density, the relocation of its residents is necessary to reduce pressure on Hanoi's Old Quarter, said Vice Chairman of Hanoi Department of Planning and Architecture, Dao Ngoc Nghiem.
Hanoi authorities have actively carried out a programme worth trillions of VND to relocate residents from the congested Old Quarter to a new urban area across the Red River, while mobilising people to comply with the city's regulation on the Old Quarter's architectural management and planning issued in late 2013.
Arousing traditional cultural values
Along with tangible heritage conservation, many intangible heritage values of the old town are being preserved with acts such as restoring traditional festivals and promoting cultural behaviours in daily life by residents of the Old Quarter.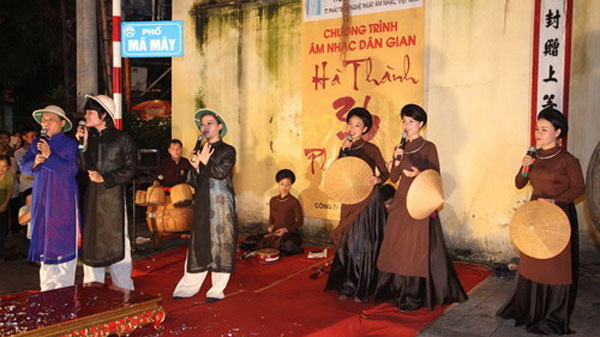 A traditional music performance at Ma May street – one of Hanoi's Old Quarter pedestrian streets. (Image credit: VNA)
"A special feature of the Old Quarter is its inhabitants, so improvement of the urban environment and people's lives are key to conservation of the relic", said Nghiem. At their old houses, people understand best what they need to do and their ability in conserving and preserving their assets in the best way. If people are considered active subjects of urban architectural heritage preservation, it is necessary to care about their interests and the joining hands of the community is the strongest commitment to the preservation of cultural heritages in general and urban architectural heritages in particular, Nghiem advised.
"The weekly ca tru performances of Thang Long Ca Tru Club at No. 87 Ma May are proving to attract foreign tourists. Along with water puppetry shows, cultural activities in the Old Quarter are also attractive activities in promoting cultural values of Thang Long – Hanoi in a more effective way," said Nguyen Cong Hoan from the Vietnam Society of Travel Agents.
On the occasion of the 60th anniversary of the Capital Liberation Day in October, a series of inspiring cultural activities were held in Hanoi's Old Quarter. Events included an exhibition of 60 photos by photographers and architects on Hanoi's heritages; introduction of images on Hanoi in 1954 and talks on the history of Hanoi in 1954; an exhibition of Dong Ho folk paintings and calligraphy writing; and a mock-up living space of a middle-class family in Hanoi before 1954. Folk music programmes of chau van (spiritual) and ca tru singing in quintessential traditional style were also held at Kim Ngan Communal House at No. 42 Hang Bac, the Old Quarter Information Centre at No. 28 Hang Buom, and the heritage house at No. 87 Ma May streets.
"During Tet and other holidays, many cultural activities also take place at the heritage sites in the Old Quarter to introduce traditional Vietnamese culture and the values of Hanoi's Old Quarter to the public and international friends," said Tran Thu Lan, Deputy Director of the Old Quarter Management Board.
The conservation of valuable tangible and intangible cultural heritages in the Old Quarter will be more effective when there is involvement of the community as well as appropriate mechanisms by management agencies to mobilise resources for preserving the ancient city's soul – the essence of a thousand year Thang Long – Hanoi.
Nhan Dan/Tintuc