VietNamNet Bridge – Many Saigonese last week rushed to the Saigon Tax Trade Center in HCMC's District 1 to bid farewell to one of the city's iconic buildings with 130 years of history before it is demolished to build a skyscraper. Tim Doling, an English scholar who has had 20 years doing research about Vietnam, especially the history and architecture of Saigon-Cho Lon, and has published numerous books on this subject, is among those feeling sorry for the fate of this building. To Doling, heritage preservation deserves an appropriate care and awareness of not only the authorities but also citizens, especially the youth.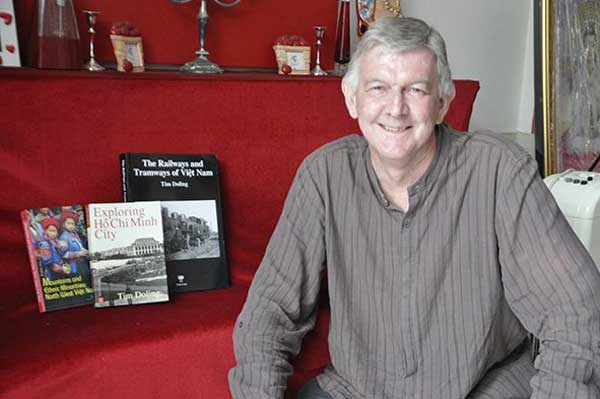 English historian Tim Doling.
In an interview with the Daily on Monday, Tim Doling shared his opinion: "Several countries like Britain, Ireland, France, and Singapore among others have experienced the same thing here and they came down the same road as they destroyed a lot of the heritage buildings. And later they have all come to regret it. It's quite sad to see the same thing happening here again and it seems that nobody learns from the experiences of other countries."
Doling says that if the governments in Britain, Ireland and America had had a chance to go back and rewrite history they wouldn't have done it because "the destruction of heritages for short-term profits at the end of the day will cause loss of identity of the cities when all the buildings were gone."
Doling also shows his concern as Saigon's original identity will no longer be there when all the old buildings are gone and all the houses will be town blocks. "Everyone here as well as people in many countries believe that heritage conservation is alternative to the development," he stressed.
In fact, according to him, experiences from other countries show that heritage preservation actually contributes to economic development by reusing and refurbishing buildings, and even raising the properties prices to maintain the iconic images of the cities.
The English scholar also raises some suggestions to promote heritage tourism which can contribute to economic development as heritage tourists stay longer and they spend more money than normal tourists. Tourist companies will be able to extend the stay of tourists from one to two days or three to four days in HCMC by introducing more heritages to them and that is obviously more money to the government.
According to a seminar on "Heritage conservation and sustainable urban development" organized in March in HCMC by the HCMC Urban Development Management Support Center, HCMC Institute for Development Studies, and Tri Viet Sustainable Development Working Group, over the past decade, District 3 has lost 56% of its French villas. Some old buildings located at 12 Le Duan Boulevard (in 1905) and at 213 Dong Khoi Street (in 1929) and at 200 Ly Chinh Thang Street (early 1920s) were demolished. Upcoming ones facing the same destiny include those at 164 Dong Khoi Street (built in the 1920s), at 122 Ly Tu Trong Street (in 1927) and at 159 Ly Tu Trong Street (in 1888).
To Doling, instead of blaming anyone of permitting this destruction of old buildings to happen, what we should be doing is seeking ways to address the cause. The key thing here is that we are not restoring heritage solely for the sake of maintaining a beautiful city, although of course that plays a very important part. Preserving heritage can make sound economic sense for a city.
In particular, researching the history of the city's heritages and building stories around it, making it living rather than dead heritages can help turn heritages into valuable tools for revitalizing neighborhoods, fostering a sense of community, increasing property values, enhancing cultural life through the re-use of old buildings as cultural spaces and above all encouraging heritage tourism.
Originally trained as a medieval historian, Doling has spent most of his career in the cultural sector, running theatres and arts centers in Coleraine in Northern Ireland, Horsham in England, and in Hong Kong, and undertaking cultural projects in Asia, Africa and Europe for UNESCO, the British Council and Visiting Arts.
Since the 1990s he has been staying mainly in Vietnam, where from 1999 to 2004 he worked with the Vietnam's Ministry of Culture and Information on a Ford Foundation-funded project to develop arts management training curricula in three Hanoi universities.
During the same period he created the Visiting Arts Cultural Profile national web portal project, which included the acclaimed Vietnam, Cambodia and Laos Cultural Profiles, funded by the Rockefeller Foundation.
He has authored numerous books, including The Railways and Tramways of Vietnam, Exploring Ho Chi Minh City, and guidebooks on North West and North East Vietnam.
Tim Dolin's particular area of interest is to carry out detailed research on hitherto undocumented historic buildings, with a view to harnessing the heritage value of the urban landscape for tourism.
He is currently working on the Walking Tours in Danang book which is expected to be published next year, and a book on heritages in Haiphong later on.
Audiences can read Doling's stories at www.historicvietnam.com.
SGT/VNN