VietNamNet Bridge - Archaeologists have found many ceramic artifacts and Balad stones, believed to be the remains of two ancient ships sunk in the waters of Ly Son island district in the central province of Quang Ngai.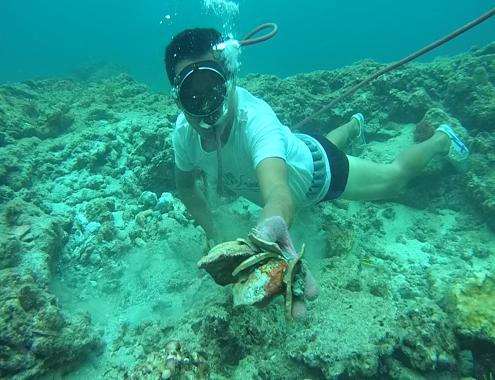 Many ancient pottery fragments have been found beneath coral reefs in the waters of Ly Son Island. Photo: Doan Anh Duong Company.
Mr. Doan Sung, adviser of the Anh Duong Investment Development Company, which was assigned to survey and explore Quang Ngai waters, said archaeologists had discovered many ceramic artifacts with unique floral patterns and dozens of ancient rocks lying at a depth of 4-10 m below the water surface, about 70 m from the An Binh island commune, Quang Ngai.
The company will propose to the local authorities to set up an underwater heritage preservation zone in the island district of Ly Son.
Dr. Doan Ngoc Khoi, deputy director of Quang Ngai Museum, said based on the artifacts that have been found, the waters of Ly Son Island are the home to ancient sunken ships.
From 1996 to 2007, Quang Ngai Museum and the Vietnam Institute of Archaeology conducted many surveys around Ly Son and collected many ceramic artifacts, including a bronze necklace from Spain.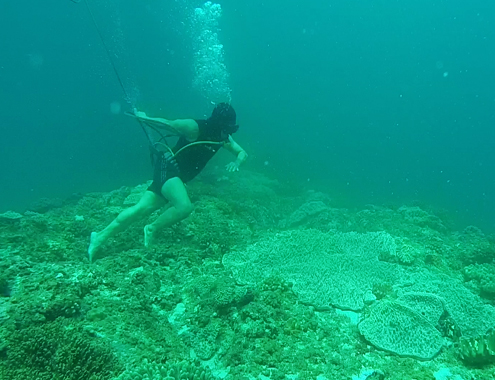 Many beautiful coral reefs in the waters of Ly Son island district. Photo: Doan Anh Duong Company.
Dr. Nguyen Giang Hai, Head of the Vietnam Archaeology Institute, said underwater cultural heritage in Ly Son island district is still a mystery to researchers and archaeologists.
"Based on the artifacts found in the area, I'm sure that some merchant ships on the Silk Road sank here. We need to urgently survey the area to preserve the underwater cultural heritage around this interesting island," said Hai.
Van Phu