Among Vietnamese traditional cakes, "banh gai" (glutinous rice cake blackened in a concoction of edible leaves) is perhaps the most multipurpose because it can be used as an offering at wedding ceremonies, as gifts at longevity parties, as a snack, appetizer, or even a dessert.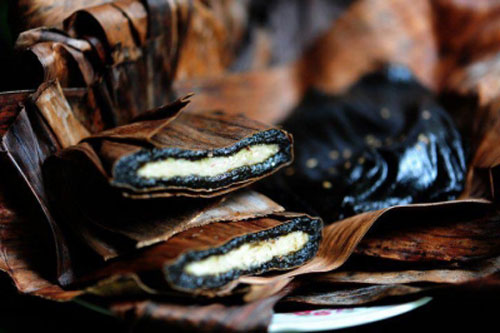 Illustrative image. – File photo 
'Banh gai' is made all year round but mostly in spring and winter. And it can be preserved unspoiled for a long time.
The fragrant 'gai' leaves covered with smooth white down are an indispensable ingredient. Fresh leaves are washed, boiled, squeezed out and pounded. All stems must be removed. Then the dry leaves are mixed and grounded to powder.
High-quality glutinous rice is soaked in water for about two hours, sifted and then grounded to flour. Then, the rice flour is mixed with 'gai' powder in a 5:1 ratio, and ground peanuts and molasses are added. This mixture is used to prepare the cake crust.
The stuffing is made of green beans, coconut shreds, sugar-coated lotus seeds and banana attar. The cakes, sprinkled with sesame, are then wrapped in dry banana leaves. They are steamed for about one hour. 'Banh gai' is tasty treat when served cool.
Hanoitimes