VietNamNet Bridge – Fourteen archaeological sites in the northernmost province of Ha Giang have been excavated in the past fortnight, revealing hundreds of relics believed to appear in the prehistoric and protohistoric times, an expert said.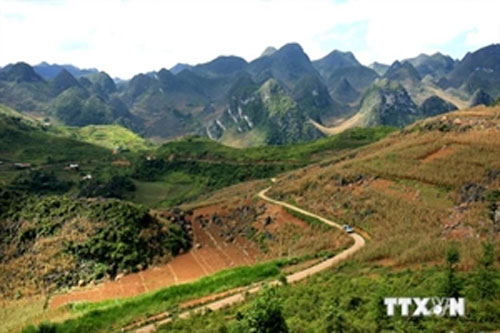 Dong Van Karst Plateau (Photo: VNA)
Assoc. Prof. and Dr. Trinh Nang Chung from the Vietnam Institute of Archaeology said the excavation has taken place since July 26 in mountainous districts, including Dong Van, Meo Vac, and Yen Minh, which are located in the Dong Van Karst Plateau.
In the neighbourhood of Dong Van Town in Dong Van District, the Seo Ho stream site was found to contain prehistoric pebble tools, which were typical for the Palaeolithic Era (Old Stone Age).
Meanwhile, stone axes and grinding bases dating back to the late Neolithic Era (New Stone Age) about 4,000 years ago were unearthed at four sites in Thuong Phung, Xin Cai and Pa Vi communes in Meo Vac District.
Archeologists also discovered pebble tools of primitive type existing in the Palaeolithic Era at 10 sites in Na Khe, Mau Due, Niem Son and Du Gia communes, Yen Minh district. They are similar to those aged about 20,000 years old found in Can Ty Commune, nearby Quan Ba District, in October 2013.
Besides tools, food traces like shells of snails that only appeared in these times were also dug up in Yen Minh's Du Gia Commune.
Chung said more than 20 relic sites from the Palaeolithic Era to the Metal Period have been discovered in the Dong Van Karst Plateau, which signals great archaeological values here.
The Dong Van Karst Plateau, with 80 percent of its terrain being limestone, spreads over Quan Ba, Yen Minh, Meo Vac and Dong Van.
The plateau was recognised as a member of the Global Network of National Geoparks in 2010, becoming Vietnam's first geological park and the second in Southeast Asia.
VNA/VNN