VietNamNet Bridge – While the campaign to legalise same sex marriage in Viet Nam may have stalled for the time being, enthusiasm remains high as the nation prepares for this year's Viet Pride festival.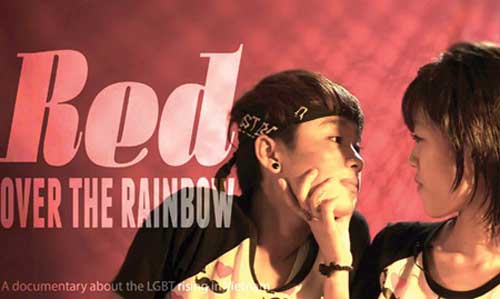 Film screening: A poster for Vietnamese film Red over the Rainbow, which will be screened during the Viet Pride Festival alongside three foreign films. — Photo courtesy of vietpride.info
Under the theme Together, the third annual celebration of LGBT (lesbian, gay, bisexual and transgender) groups will take place from August 1-3 in Ha Noi.
The festival will start at the Ha Noi Goethe Institute with films, discussions and presentations on the topic of gay partnerships.
The screening of films including Red over the Rainbow (Viet Nam), The Life of Harvey Milk (United States), Warriors for Love (Netherlands) and I Feel Like Disco (Germany) will be put on for the public free of charge.
Dialogues and exchanges with representatives from UN agencies will form the core of the programme to seek public support for LGBT rights, a struggle that remains difficult due to traditional cultural barriers.
The Viet Pride bike rally will headline the event with the participation of 600 bicycle riders on Sunday morning with participants on rainbow-coloured bikes to form a sea of colour for visitors.
Starting at Giang Vo Lake, the rally will finish at the American Club with a flash mob dance and art performance jointly organised by the US Embassy.
The event aims to sustain the momentum and solidarity amongst LGBT groups across the country, and foster dialogue between the LGBT community and key partners, including dedicated rights activists, civil society organisations, UN agencies and other partners in Viet Nam.
"Through solidarity and understanding, Viet Pride aims to harness the energy and strengthen the voice of LGBT people," said the event's director, Nguyen Thanh Tam.
"For a patriarchal society like Viet Nam, homophobia often persists in very subtle forms but is also deep rooted and internalised. In such a context, Viet Pride is extremely important as it upholds the cherished values of tolerance, diversity and equality."
The first Viet Pride was held in August 2012 in the capital city with more than 200 young people waving rainbow flags and messages on equal rights as they marched through the streets of Ha Noi.
This year, the event will be marked by the alliance with various international organisations such as the Civil Rights Defenders, the Goethe Institute, the Dutch and US embassies, the UNDP and USAID.
VNS/VNN