VietNamNet Bridge – The first-ever class in xam (ancient folk songs performed by blind beggars) for primary and junior high school students has opened in the northern province of Ninh Binh's Yen Mo District.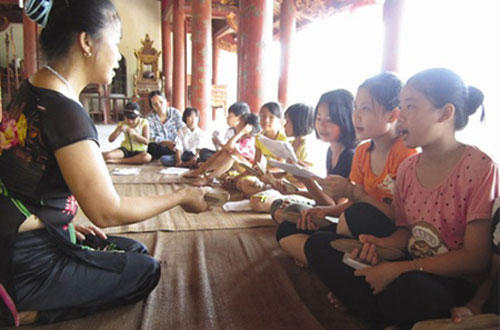 Next generation: A teacher trains students at the first-ever xam training class opened to primary and junior high school students in the northern province of Ninh Binh's Yen Mo District. — Photo tinnong.vn
The district, where the art form originated, is also the motherland of famed xam artist Ha Thi Cau, who passed away last March at the age of 96. Its 17 communes and towns are home to several xam clubs.
Xam singing requires a drummer and castanet player, as well as musicians playing nhi/co (two-stringed fiddle) and bau (monochord). They all sing together.
Legend says that the music was created more than 700 years ago by royal prince Tran Quoc Dinh, who was mistreated by his older brother and had to earn a living by wandering every where as a blind beggar. Fortunately, his ability to sing and play instruments made him famous. He went on to teach other blind people how to sing and play instruments to earn a living.
"The class is part of a project aiming to restore and develop the art of xam," Vu Van Cung, head of the district's Culture Department, told Viet Nam News. "The class is especially designed for gifted students. The goal is to create another generation of singers, as most members of the local xam club are elders."
During the class, which will meet twice a week for three months, 46 students will learn both new and ancient melodies under the tutelage of local musicians. After they learn to sing, they will learn how to play folk instruments, which are also used in cheo (traditional opera).
Beginning students will be taught the three most popular melodies: Xam thap an, Xam tau dien and Xam cho.
Another class for music teachers at local primary and junior high schools will be opened this September. They will study with professional singers from Ninh Binh Cheo Theatre.
"Xam is a difficult art. It requires not only a good accent but also breathing and singing skills," said teacher Pham Thi Kim Ngan. "If singers don't have good singing skills, they will sing xam melodies like cheo."
Student Bui Van Thien, 13, has become passionate about the music.
"At first I found it so difficult," he said. "After some lessons, I got used to it and found it really alluring. I'll try my best to perform on stage someday."
VNS/VNN