VietNamNet Bridge – He has amazed people by making musical instruments out of the most unlikely substances and playing different rhythms in tandem, but Mai Dinh Toi tells the reporters that he is yet to surpass his limit.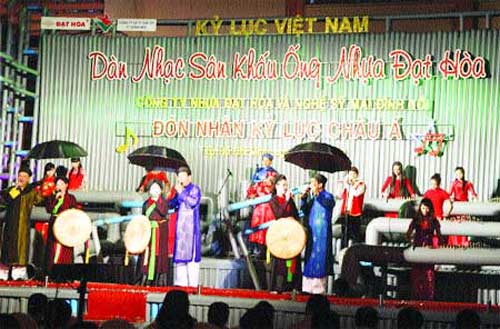 Pipedreams: Quan Ho artists perform with the accompaniment of "orchestra pipes" fashioned by Mai Dinh Toi, who won an award for it. The orchestra plastic pipe is 6 metres high and 7 metres wide. 
Performing artiste Mai Dinh Toi has to his name three Vietnamese records and two Asian records in making musical instruments and performing with them.
Having performed ethnic music for over 10 years, he is considered a living example of a passionate artiste who is dedicated to a certain kind of art, and who silently takes on a bigger challenge after every achievement.
Born in 1959 in Thanh Hoa Province's Vinh Thinh Hamlet, as a little boy Toi listened to ethnic musical instruments and folklore melodies that used to be aired on the Voice of Viet Nam radio each day.
"We only had a few radios in the region, so if I wanted to hear something more clearly I would press my ears against the neighbour's wall. Since then, I always thought of ways to adjust my radio's volume, so it would sound the loudest," says Toi.
Toi's grandfather, a former clarinet player in the hamlet, was also his first musical teacher. This man, who had a huge influence on the artiste, taught him how to blow a clarinet without any music theory.
"It was thanks to him that I had a lifetime opportunity to be recruited by the National Classical Opera Theatre when they visited my home country to look for troupe members," Toi recalls.
Even now, Toi is not clear about how many instruments he has created. At some point, he always wishes to challenge himself at things that seem impossible to change.
"During my four years in university, I went to Ha Noi Academy of Theatre and Cinema to study clarinet, while learning to play the flute at the Viet Nam National Music Academy in the afternoon. At night, I practiced the clarinet alone on the dormitory's rooftop. Even though I had been on the rooftop before, my schoolmates had to suffer my noisy sound and continued to suffer a long time later, when I practiced playing the flute along with the drums with my feet. It was quite an unforgettable time."
"Back in 1992, I had the crazy idea of playing the flute and conducting a drum orchestra together. I was told I was out of my mind to try and play two instruments with different rhythms. But more than anyone else, I understood it clearly. Over the past seven years, I have worked hard to practice playing those things," says the 55-years-old.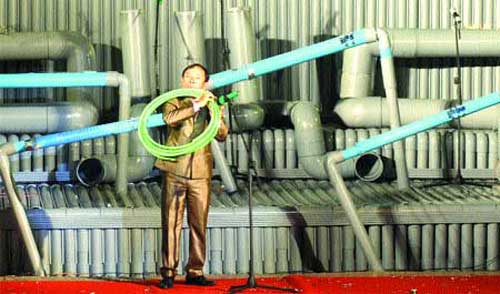 Pied piper: Mai Dinh Toi plays the orchestra plastic pipe on the night he received the Guinness Asian prize. — VNS Photo
"Those first few days, I had a terrible swelling on my feet and could not walk with shoes. Then I tied chopsticks to my feet and practiced with them until they got better. I also got calloused feet after such a long time!" Toi recalls.
Thanks to all the effort, Toi successfully made his debut on the stage with a smooth and catchy performance, with the combination of flute and drums with his feet. The performance also won him a silver medal in the National Instrument Performance in 1992.
Lately, Toi has on occasions played the flute with his nose, dan nhi (Vietnamese two-chord fiddle) with two neon light bulbs and played the flute with a soft drink bottle or plastic water pipes. His performance with glasses at HCM City's Zoo and Botanical Garden last year with a popular melody amazed the audience.
"It took me five years to master the glass orchestra. I was asked the price of those glasses. Some cost a few dong, others a million dong. The point is many of them have cut me while I wondered how to make their sounds echo perfectly," adds Toi.
Having travelled to many countries in Europe and the US, Toi has brought Vietnamese culture to as many corners of the world as possible.
In 2012, Toi was bestowed with the Asia Record Award by Asia Record Centre for the special ability to make musical instruments, as well as for his "talent beyond borders".
At the moment, Toi is planning to form an orchestra made from traditional pottery wares. Born in the countryside, he wishes to create musical instruments that are close to the Vietnamese spirit.
"I have not been able to surpass my limit, and make an orchestra by myself, but I will not give up. There is nothing you cannot achieve once you get true grit," says Toi.
VNS/VNN