VietNamNet Bridge - Netizens have been talking about the film "Apartment 69," which is rated by its own producer as 18 +. The first 20-minute episode was released on Youtube on June 5 and by June 18, it had more than 1.5 million hits.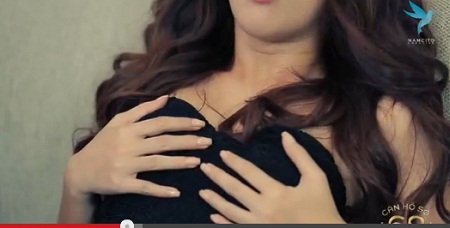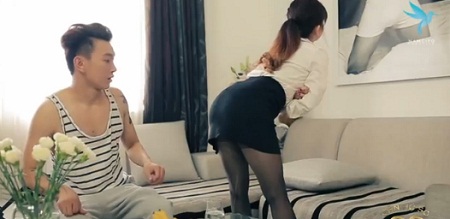 Some sensitive scenes from "Apartment 69".
On the official channel of this 25-episode sitcom, the producer states that this is a series for viewers over 18 years of age with content about love, sex and friendship of adults.
"Apartment 69" is the first movie from Vietnam aired on Youtube, with one episode a month.
The appearance of "Apartment 69" on Youtube represents a new form of release, which poses risks for viewers, particularly teenagers since the movie does not face any barriers of censorship.
In the first episode, there are a lot of vulgar scenes: a girl takes off her bra after saying: "How can I develop in such hot weather"; a boy masturbaties on the sofa in his living room and out at a bus stop; a girl eats a banana in a crude way.
Difficult to control
Some scenes from "Apartment 69".

Currently, all cultural products in Vietnam must pass censorship. The National Film Censorship Board is responsible for censoring all large-screen movies before they are screened.
The directors of local TV stations are responsible for the content of the movies aired on their channels. The national Vietnam Television has its own film censorship council.
Music albums are only released after they are checked by the Department of Performing Arts under the Ministry of Culture, Sports and Tourism. Films on tapes and disks must be licensed by the Department of Cinema.
However, cultural products distributed online are out of the government's control.
Ms. Hong Ngat, vice president of the National Movie Censorship Council, spoke to VietNamNet about her concerns about the content of online-distributed movies since they are not controlled by any state body. She said the producer acknowledged that "Apartment 69" was an 18+ movie, but it has no way of controlling the audience.
Renowned director Khai Hung said that the authorities should not ban the movie because the ban may make the film more "attractive". "Don't be worried, the viewers today are very clever. They will not watch garish movies. They have their own filter so let the viewers eliminate bad products themselves. The authorities should not have an intervention. This is a level playing field, provided that they do not violate the copyright rules," he said.
Hoang Vy