VietNamNet Bridge - Hue City has been awarded the title of "City of Culture of ASEAN" in 2014-2015, and was the first city in Vietnam to be bestowed this honor.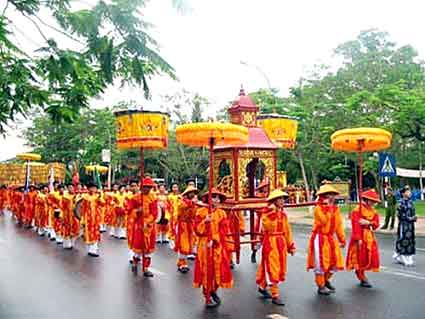 On Saturday morning, at the ASEAN +3 Conference of Ministers Responsible for Culture and Arts in Hue City, Singapore's Minister of Culture, Youth and Community, Mr. Wong Shuyn Tsai Lawrence, presented the Logo "ASEAN City of Culture" to Mr. Nguyen Van Cao, Chair of Thua Thien-Hue Province.
Hue is the 3rd city, after Cebu (Philippines) and Singapore, to become the ASEAN City of Culture. During its two year term holding this title, Hue will play a role in enhancing exchanges and cooperation between cultures and civilizations, raising awareness in the people in Southeast Asia about the value of ASEAN identity.
This conference focused on discussing the implementation of commitments outlined in the statement on Unified ASEAN in cultural diversity, towards strengthening the ASEAN community.
Deputy Prime Minister and Foreign Minister Pham Binh Minh said, after 47 years of development, ASEAN has made big progress in the process of community building. ASEAN countries have made strategic decisions to preserve and promote cultural heritage and expand cooperation with partners outside the region, especially China, Japan and South Korea.
"The next goal is to improve the physical and spiritual quality of life of the peoples of ASEAN, looking forward to the community of 'mutual development and prosperity'. ASEAN should actively prepare strategies for cultural development for the period after 2015," he said.
The conference ended on Sunday.
P. Linh