VietNamNet Bridge - Tens of thousands of people poured out into the streets of Hanoi and HCM City on the night of December 24, to celebrate Christmas Eve with Catholics and Protestants.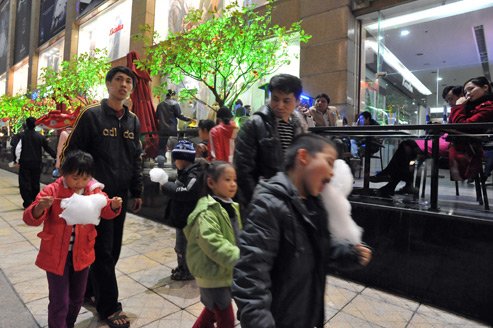 In Hanoi, as early as 7pm crowds of young people were flocking to the city center, packing major streets and causing traffic to grind to a halt.  
Municipal wardens and security staff were deployed to clear traffic along Pho Hue, Hang Bai, Tran Hung Dao, Trang Tien, Hang Ngang, and Hang Dao streets.
A Christmas welcoming atmosphere prevailed at churches such as Ham Long, Hang Bot and Cua Bac (Northern Gate). Churches became so crowded that some areas around Hanoi Cathedral and Ham Long church were cordoned off.
Catholics and revelers filled Cua Bac church before mid night. The special mass was started with carols sung by the choir. Then the atmosphere was charged with excitement when Santa Clauses came out and gave Christmas presents to the children.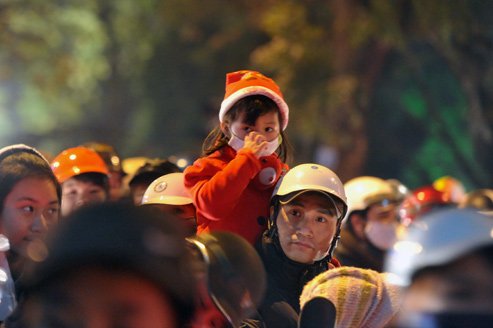 People also crammed the church's souvenir shop, selecting presents they liked in the hope that God will bring luck to them.  Dinh Cong Hung, a university student, who bought a picture of the Virgin Mary, said he believes in the good that Jesus Christ taught his followers, although he is not religious.  
Despite the chilly weather, revelers jammed streets to Hoan Kiem (Restored Sword) Lake, which is the centerpiece of major festive celebrations. Many foreigners also joined Vietnamese people to celebrate Christmas Eve.
My Glenne, a French writer who has been living in Vietnam for five years, told VOV he has decided to welcome Christmas and New Year 2012 in Vietnam.
"It is very exciting to celebrate Christmas here," he said. "I think my life now is here, in Vietnam.  There is not much difference between Christmas celebrations in France and the lunar New Year holiday in Vietnam. Tomorrow, I will prepare special dishes at home for my friends."
As Christmas celebration fell on the weekend, shopping and entertainments centers have launched promotions to attract visitors.
Many families selected fast food restaurants such as KFC, BBQ and Pizza Hut as their choice for having dinner. Children were overjoyed with gifts presented by staff dressed in colorful Santa Clause costumes at the entrance.   
Big shopping centers such as Vincom, Big C and Pico refurbished their facilities to lure more customers. Many young people and children posed with giant pine trees and Santa Clause cutouts in front of the centers for photographs.
At the Hanoi Children's Palace, kids had the chance to see snow fall, enjoy exciting art performances and receive presents from Santa Clause.
The West Lake Water Park played host to a Virgin Night with interesting programs to celebrate Christmas. Cinemas also took this opportunity to launch Xmas blockbusters such as Alvin and the Chipmunks 3 --"Chip-Wrecked."
In Ho Chi Minh City, traffic jams occurred when people took to the streets leading to churches and entertainment centers.  Crowds choked up the areas around Notre Dame Cathedral, Le Duan Avenue in front of the Doc Lap (Independence Palace), Nguyen Hue Avenue and Ham Nghi Road.
For a long time, Christmas celebrations have been a festive day not only for Catholics and Protestants, but also non-religious people.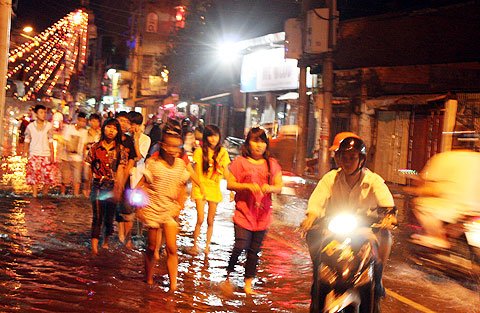 Saigonees welcome the Christmas in flood tide.
Nguyen Ngoc Duc, who lives in Thu Duc district, told VOV that he drove his wife and children to the city center, hoping to enjoy the jubilant Christmas atmosphere.
"I am very happy to be here tonight.  I wish everybody a merry Christmas and a happy New Year," said Duc.
Many foreigners who have travelled to Vietnam for the first time were also interested in the celebration.
"This is the first time I have welcomed Christmas in Vietnam," said an American citizen. "I am surprised that you also celebrate Christmas as we do in my country. Many pine trees have been put up here, I like them. It is very exciting here."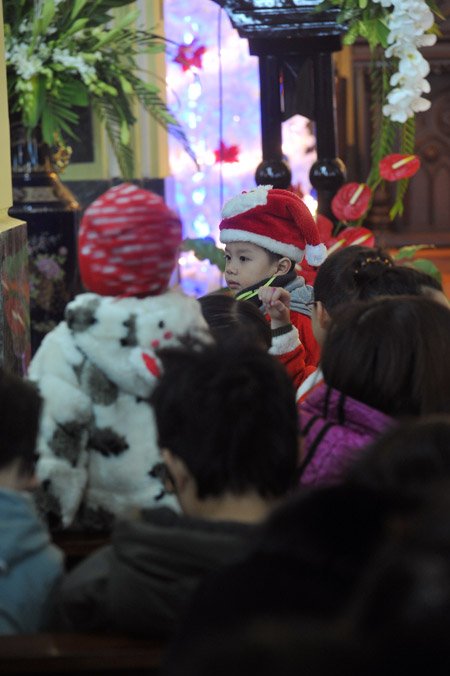 The Christmas atmosphere has also nudged its way into every corner of the central city of Danang. Tens of thousands of people poured out into the streets to celebrate the holiday with Catholics and Protestants.
Major streets leading to the Han River such as Le Duan, Tran Phu, Nguyen Van Linh and Bach Dang, were decorated with colorful lights and eye-catching Christmas objects.
People packed the main church and posed for photographs besides the grotto model where Jesus Christ was believed to be born, and a big pine tree.
Christmas in Hanoi: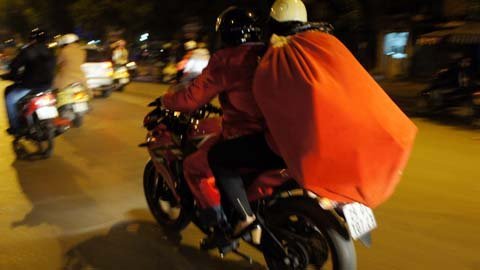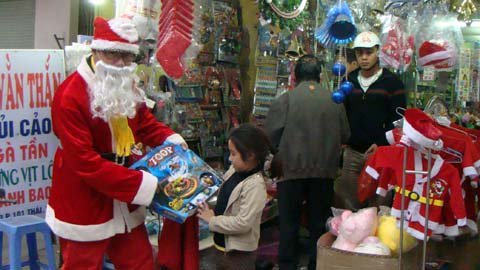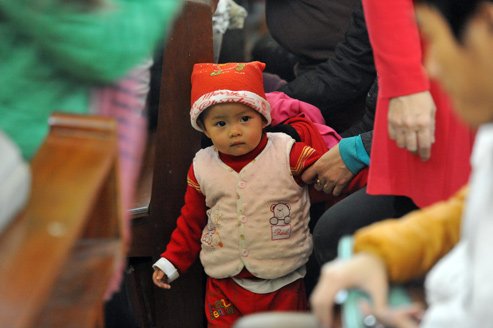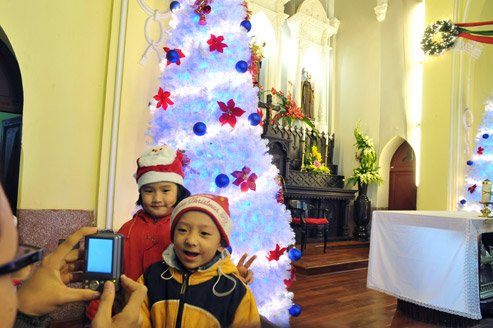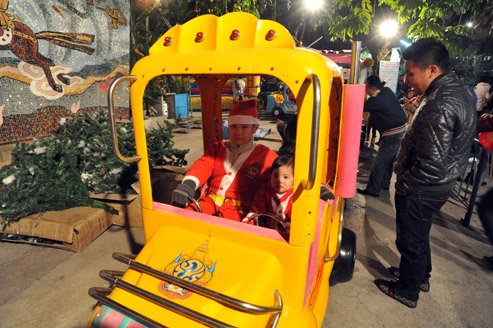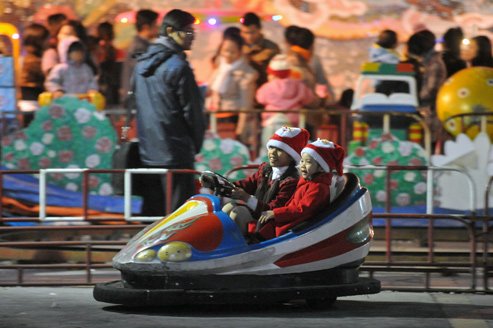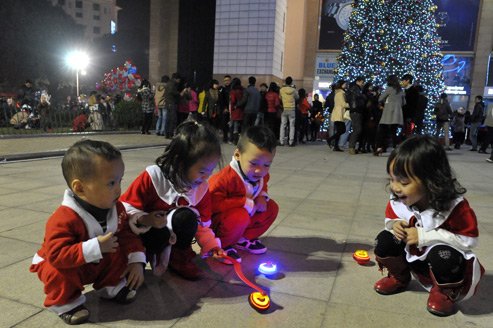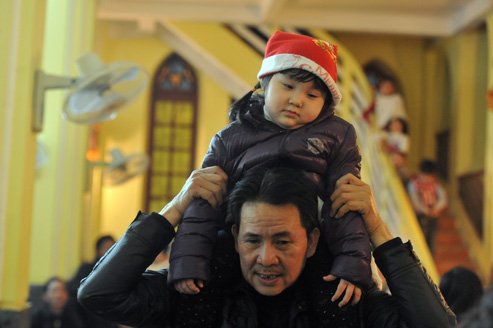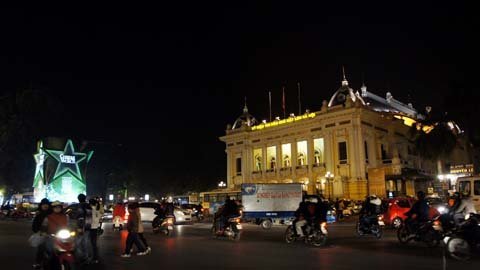 The August Revolution Square.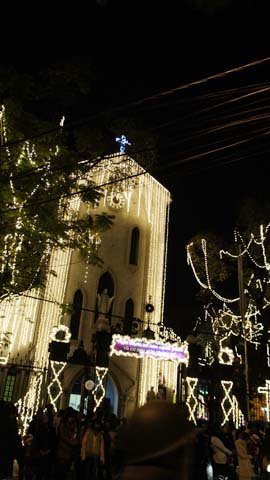 Ham Long church.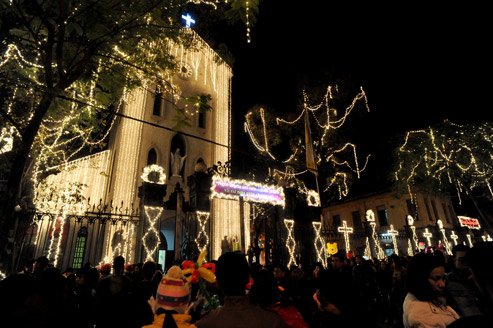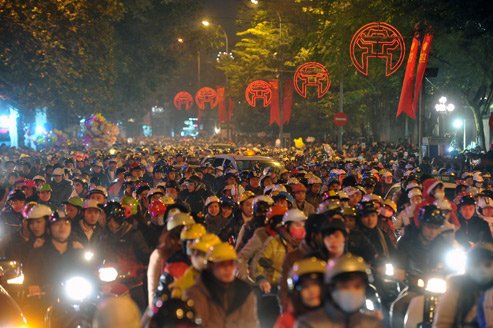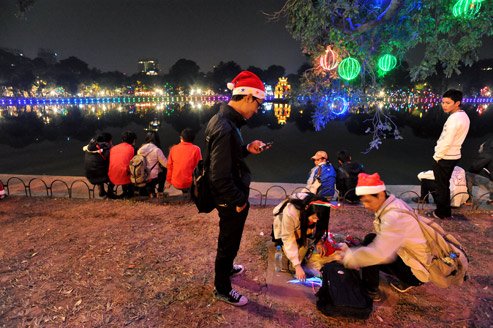 At Hoan Kiem Lake.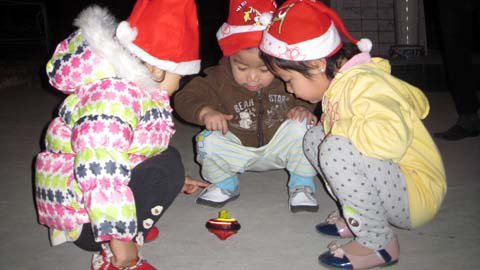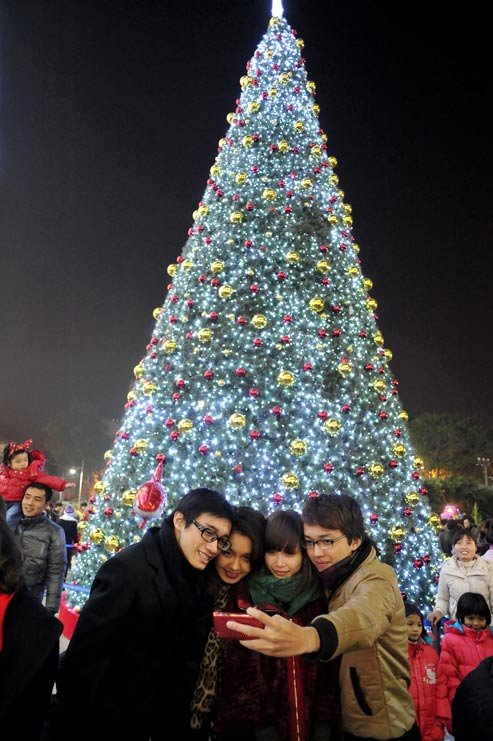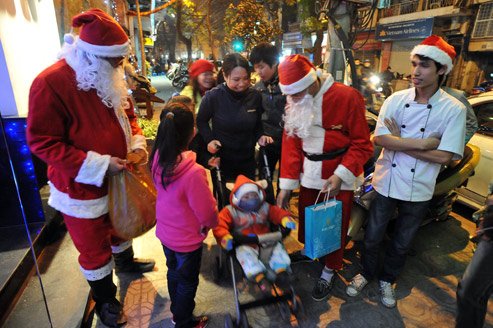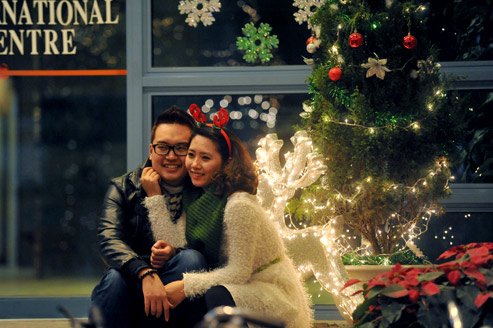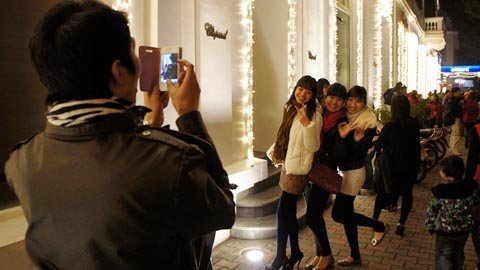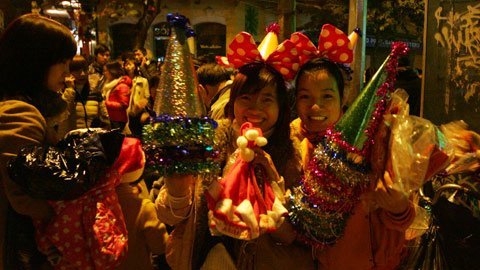 At the Hanoi Great Church.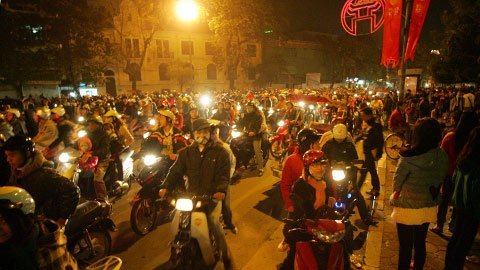 Dinh Tien Hoang Road.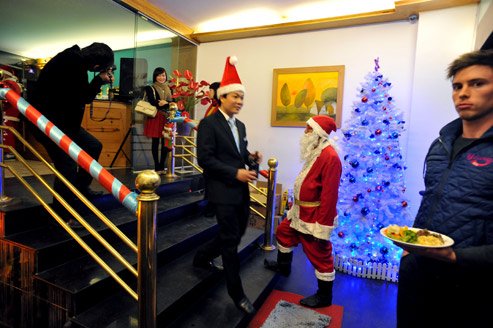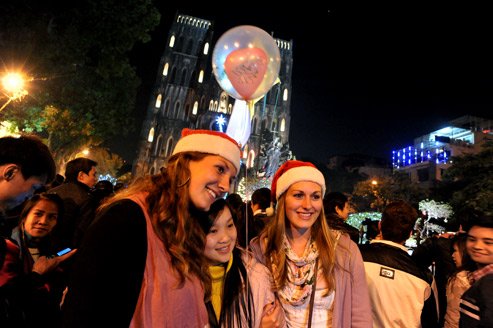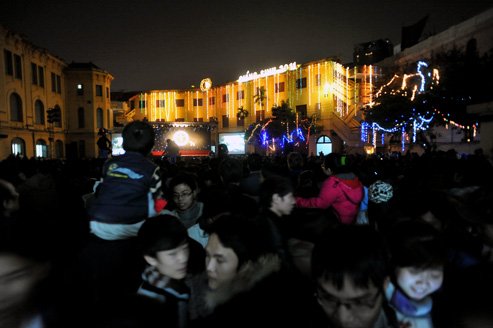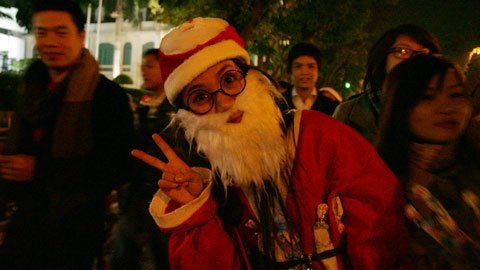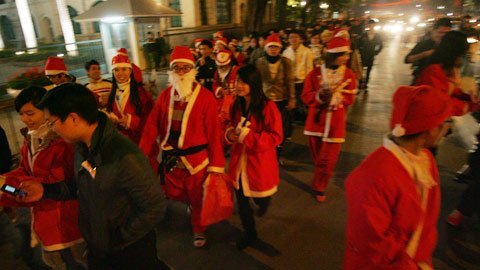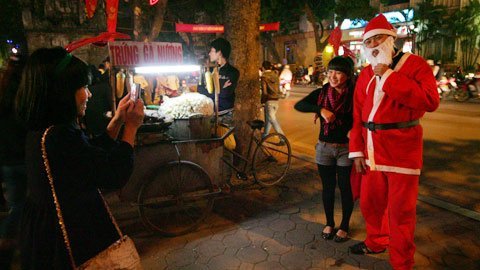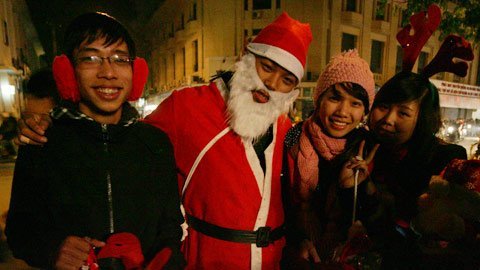 In HCM City: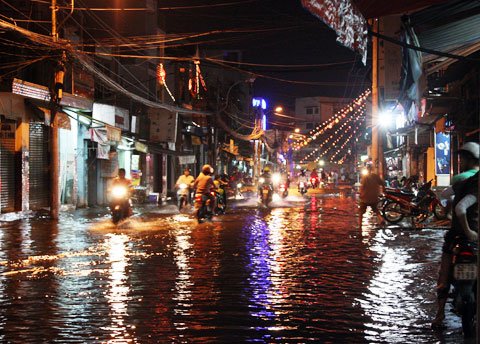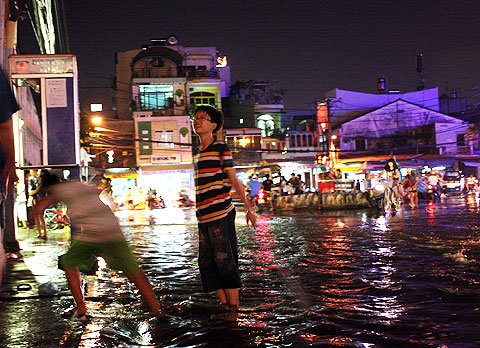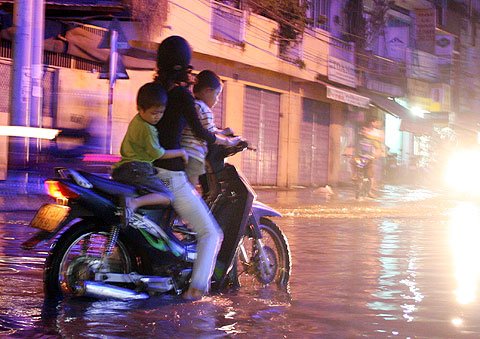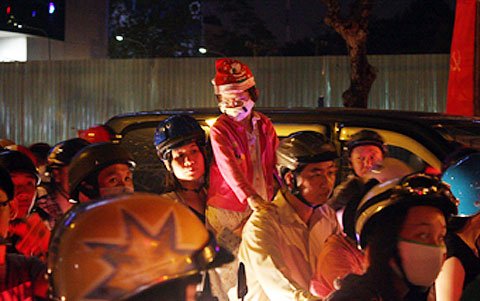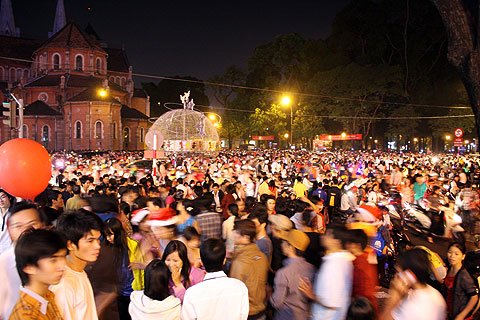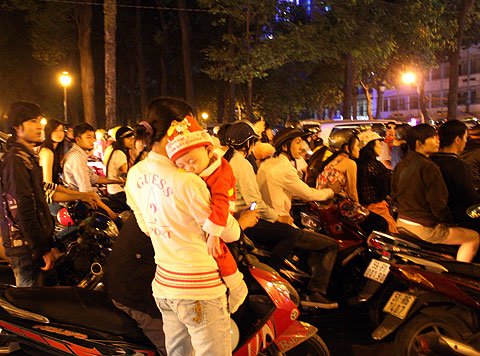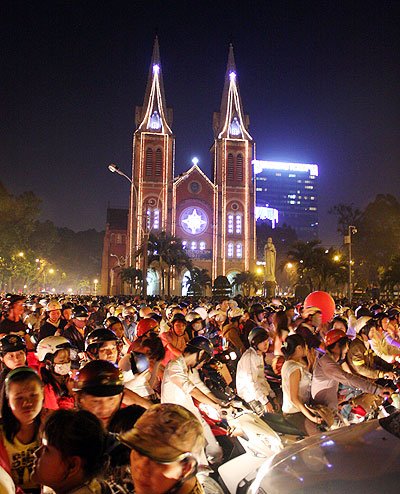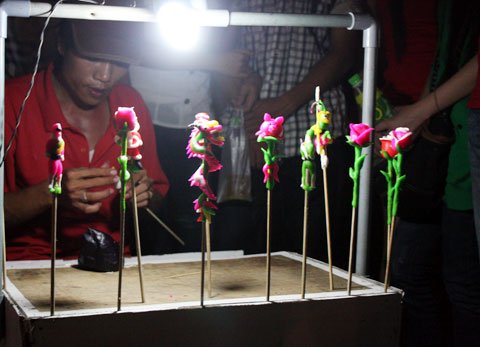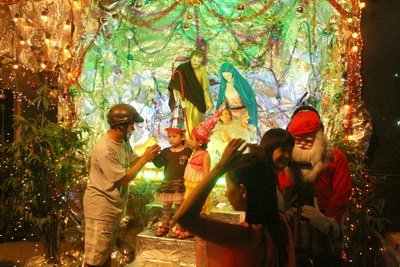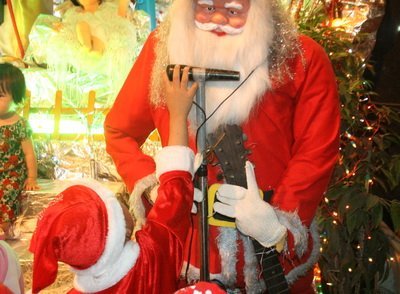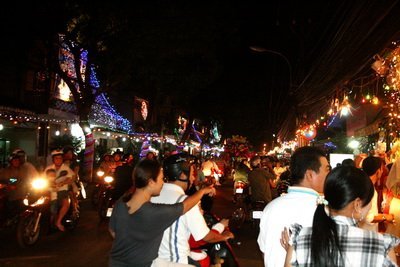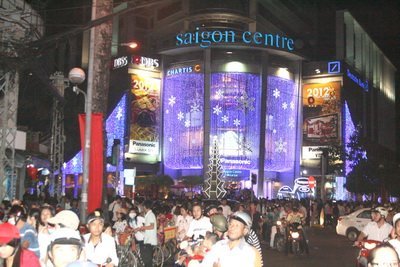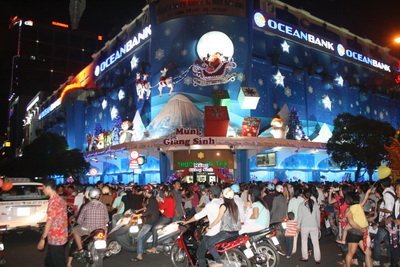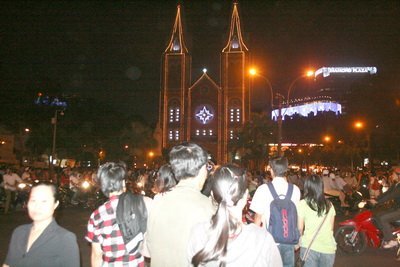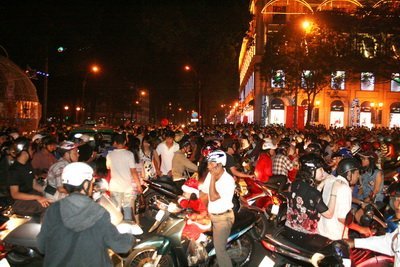 In Hue City: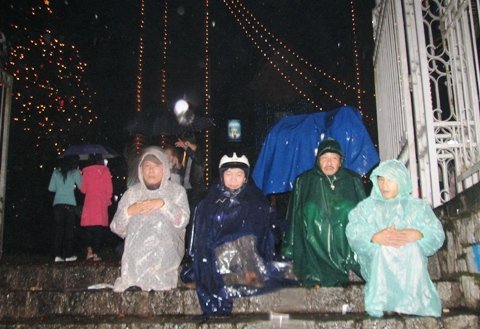 Hue people welcome the Christmas in rain.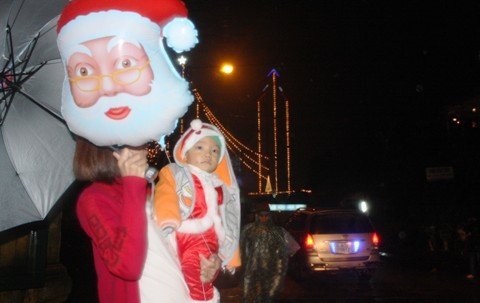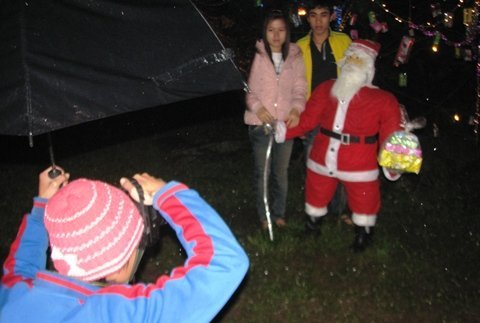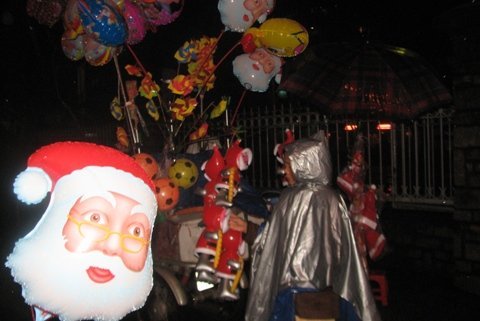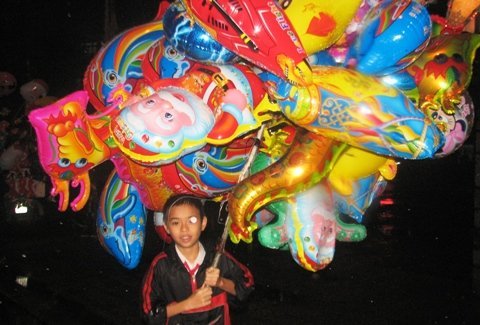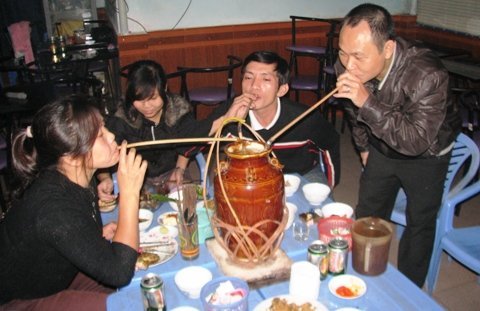 VOV/VietNamNet