Prime Minister Nguyen Tan Dung has approved a new aviation transport pact already signed by officials of Vietnam and the United Kingdom to enhance air transport ties between the two countries as well as investment and cooperation relations.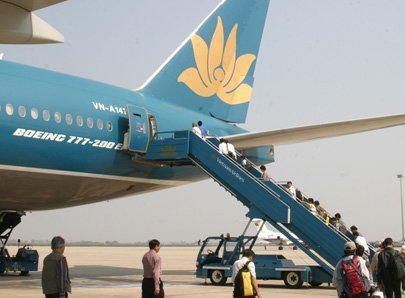 The Prime Minister signed Decision 480/QD-TTg endorsing the agreement on Tuesday, less than five months after officials of the two countries clinched it in London in December last year. The Ministry of Foreign Affairs has been told to prepare final procedures for the pact.
The Civil Aviation Administration of Vietnam (CAAV) said that the new agreement did not set the valid period but it would become invalid one year after either side had a written announcement for its decision to halt the pact.
The highlights of the new agreement mark a significant increase in flight frequency between Vietnam and the UK. Transport officials of two countries have agreed to bring the number of weekly services between the two countries to 14 from only three flights a week in their first aviation agreement clinched in 1994 and revised in 1999.
The UK and Vietnam signed the new aviation agreement on December 8 last year, one day before Vietnam Airlines commenced its direct service to London. The flight inaugural ceremony in London was also joined by Vietnam's Transport Minister Dinh La Thang, who represented Vietnam to sign the new aviation accord.
The air link is part of the projects outlined in the Vietnam-UK 2011 Action Plan, whose aim was to identify opportunities for bilateral cooperation after the two countries signed the Strategic Partnership Declaration in September 2010. The plan also comprised of initiatives on political and diplomatic cooperation, trade and investment, education, training, science and technology, security and defense.
Currently, Vietnam Airlines operates its Boeing B777 aircraft for four weekly non-stop flights between Vietnam and Gatwick Airport, some 46 kilometers south of Central London. The national flag carrier also plans to service seven times a week from Hanoi and HCMC to London by 2015.
Vietnam Airlines said nearly 200,000 British people visited Vietnam and other nations in Indochina every year, and that it was expanding its network in this potential region and building connections with other regions.
The number of British travelers to Vietnam grew strongly right after Vietnam Airlines launched the direct service. According to the General Statistics Office, British arrivals in Vietnam rose from nearly 15,500 in December last year to more than 17,860 in January this year. The first month of 2012 saw the UK in Vietnam's list of top ten visitor-generating markets after China, South Korea, the United States, Japan, Taiwan, Australia, Cambodia, France and Malaysia.
Besides London, Vietnam Airlines flies direct to European airports in Frankfurt, Paris and Moscow.
SGT