If you are visiting Dong Thap Province in the flooding season, tourists, even locals in the Mekong Delta will feel excited with the familiar and strange feeling of nature in the alluvium wetland.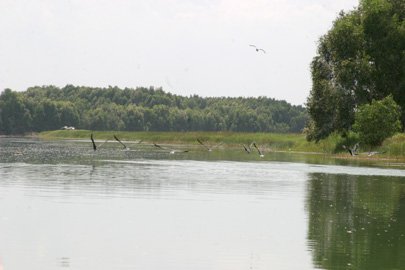 If travelers come from other regions, that feeling will intensify when sitting on a small wooden boat drifting along the dark red canal, winding in the forest and then falling into the vast space of sky and water.
Tram Chim National Park is where visitors can have a lot of excitement and witness the beauty of the province.
People from busy cities will be amazed by the images of a boat carrying pink lotus flowers, a young girl rowing her boat amidst the greenness of lotus leaves and rice or luc binh (water hyacinth).
The small boat takes tourists through the cajuput forest then to a rice field which stretches to about 10 hectares. Every April, when rain comes, the rice starts growing and when the flooding season comes from August to December, the rice blossoms and increases together with the water level. One month later, the harvest comes.
People call the rice lua troi, or rice of heaven, as it is the gift of nature. It is very sticky and fragrant. People use it as a local specialty as well as food for birds and they don't sell it.
Tram Chim National Park is in the lowest area of the Mekong River waterlogged plain submerged and in the center of Dong Thap Muoi. With a system of swamps, grass-plots and crossing canals, the 7,612ha Tram Chim National Park has become an ideal habitat of more than 100 vertebrates, 40 species of fish, and 147 rare and precious species of birds, especially the red-head cranes. Therefore, touring there, tourists should not forget to go to the watch tower to see the birds.
However, to take a good photo of dancing cranes is not easy. Some enthusiasts or photographers need to wait for a day and have to lie under trees so that the birds can't sense their presence.
In the park, the floating market is a venue for tourists to enjoy specialties of the wetland like snake or many kinds of fish.
SGT