VietNamNet Bridge – Besides their beauty, ancient trees contain historical and cultural values of a region or a family. There are some trees which are national treasures but they are not known widely.
Ancient trees – Family symbols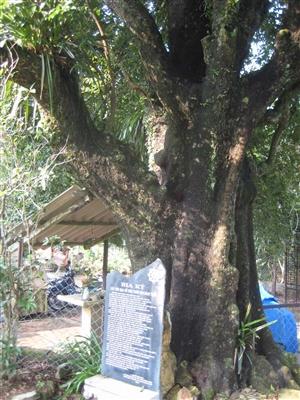 The bop tree at the ancestor tomb of the Than family in An Lo village


On November 5, 2010, the Vietnam Association for Conservation of Nature and Environment (VACNE) organized a ceremony to honor and present the title "Heritage Tree" to an ancient gold apple tree (Diospyros Decandra Lour), at the yard of the temple of Than Van family in Duong Xuan Ha village, Thuy Xuan ward in the central city of Hue.

This is the first ancient tree in Hue and the tenth tree in Vietnam that is recognized as a heritage tree. The nine other trees are nine 700-year-old Bachang mango trees at the Voi Phuc temple in Hanoi.

The gold apple tree was sourced from Nguyet Bieu village, which was planted in 1698 by Mr. Than Van Tham (1671-1758), the ancestor of Than Van family in Duong Xuan Ha village, as the landmark and the mark of time for the settlement of his family in Duong Xuan Ha village.

According to the family annals, Mr. Than Van Tham planted this tree when he was 27 years old. It is 25m high, with a 4.2m perimeter at the height of 1.3 m, and with a 1.4m diameter. At present, the tree is in healthy condition. It blossoms in May and grows fruit in the summer. The tree has been developing alongside the development of the family Than Van within this community. The tree is well conserved, protected, and respected by all descendants of this family.

According to VACNE, to be recognized as a heritage tree, an ancient tree must be between 200 to 300 years old in term of a wild tree, or over 100 year old in case the tree is intentionally grown.

The tree must go with specific historical and cultural characteristics of the localities.
The old wootung tree in front of Can Chanh palace in the Hue royal citadel


Other trees that do not meet the above standards but have special values in terms of science, culture or history and unique bonsai trees are also recognized as heritage trees.

After receiving the proposals from the localities, the Board of Heritage Trees will assign its experts to measure biological parameters of the trees to identify their age. Once they are recognized as heritage trees, VACNE will partly cover costs and provide technologies of ancient tree care as in special tree maintenance.

A representative of the Than Van family said that the family would ask for the recognition of heritage tree for some ancient trees on the campus of the Than Van family's temple and tombs, including a mangosteen tree of over 100 years old in the temple of the Than Trong family in Nguyet Bieu village, a gold apple tree of over 100 years old, and a sanh tree of more than 300 years old in the temple of the Than family in Cu Chanh district, and two bop trees of over 60 years old at the tomb of the ancestor of the Than family in An Lo village; all in Thua Thien-Hue province.

Old baobab trees

Than Trong Ninh, a member of the Than Van family who is also a member of the executive board of the Vietnam Floral Association said that he would nominate the two baobab (Adansonia) trees on Mai Thuc Loan Street in Hue city.

The two African-sourced trees were seeded by forestry engineer Nguyen Huu Dinh in mid-1940. The seeds were brought from France. They were believed to be the only baobab trees in Vietnam. However, other baobab trees have been discovered in other provinces in Vietnam, some of them are older than the trees in Hue.

Pines and wootung trees planted by King Minh Mang

There is a pine forest in Hue city, which is very special and meaningful since it was planted by King Minh Mang and his mandarins.

These trees have bronze or stone-made tags, which note the name and position of the growers and the time of planting.

There are also wootung trees planted at the tombs of King Ming Mang, King Tu Duc and the Can Chanh palace in the Hue royal citadels which are worthy to become heritage trees. These trees were brought from Guangdong, China and sought from mountains in Vietnam.

According to a survey made in June 2010, Hue has 410 trees of over 50 years old. These trees are the former capital city's pride.

After recognizing ten bachang mango and a gold apple trees as "heritage trees of Vietnam", the Vietnam Association for Conservation of Nature and Environment has certified other trees as heritage trees of Vietnam, including:

-          An age-old evergreen coniferous tree (Cunninghamia konishii hayata) in the central Nghe An province

-          54 ironwood trees at Cao Temple, An Lac, Chi Linh, Hai Duong province

-          A gold apple tree in Nhuan Trach village, Van Thang commune, Ba Vi district, Hanoi

-          The over 700 year-old Gao tree (Bombax ceiba) in Mo Pagoda, Nghi Duong Hamlet, Ngu Phuc Commune, Hai Phong province

-          A sa mu dau (Cunninghamia konishii Hayata) in Nghe An province

A nghien tree (Burretiodendron hsienmu) in Cao Bang province

Tien Phong