VietNamNet Bridge – Argentinean coach Marcelo unexpectedly said goodbye to Dong Tam Long An football club on January 3, after just three months he joined the team.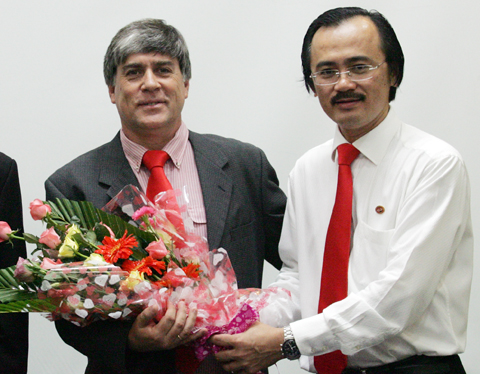 Coach Marcelo and Dong Tam Long An's chairman.
Marcelo joined Dong Tam in October 2010 under a one-year contract. In his first day with the team, the Argentinean coach confidently stated to bring the V-League championship to the team.
However, his contract was liquidated. The replacement is Marco Barbosa, 56, from Brazil. Barbosa arrived in Long An province on January 4.
Marcelo's departure from Dong Tam Long An is unexpected because under his management, the team played very well at the Binh Duong TV Cup (champion) and HCM City Cup (second) though it didn't have two main pillars – Tai Em and Minh Phuong.
According to the team's officials, coach Marcelo had to return home for family affairs. However, it is rumored that there was disagreement between Marcelo and some key players so the team officials decided to replace the coach to keep the team stable since V-League 2011 is starting on January 22.
After Portuguese coach Henrique Calisto left, Dong Tam has replaced a lot of coaches. The club didn't perform well the last V-League.
Dong Tam Long An is based in Tan An, the capital of the southern province of Long An. They were champions of the V-League in 2005 and 2006, and runners-up in 2007 and 2008. From the 2007 season, the club name has been changed to Dong Tam Long An F.C.
PV
Caption: Coach Marcelo and Dong Tam Long An's chairman.