VietNamNet Bridge – In their debut at the upcoming Olympics, Vietnamese rowing duo Pham Thi Thao and Pham Thi Hai will have to overcome challenges to make their dream come true.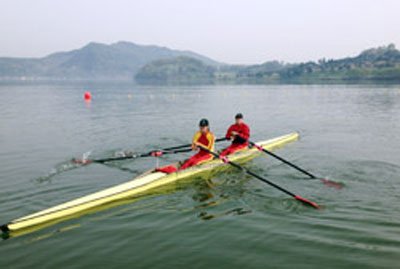 Dynamic duo: Vietnamese pair Pham Thi Hai (left) and Pham Thi Thao will compete at the upcoming London Olympics. (Photo: VNS)
The pair arrived in London on Friday and will have only one week to make themselves familiar with a rented boat at the Eton Dorney Rowing Centre, around 30km west of the city. It is acclaimed as one of the finest rowing venues in the world.
A limited budget prevented them from bringing their own boat to England. Despite the fact that their boat reaches international competition standards, it will take Thao and Hai at least four days to master the new craft.
Meanwhile, the venue will also pose an obstacle for them.
In Viet Nam, they train and practise on West Lake which is a natural lake. In Eton Dorney, they will compete on an artificial lake, which according to experts will create the best conditions for rowers, but will be difficult for them to adjust to.
According to Joseph Donnelly, Viet Nam's Australian trainer, it is a decisive time to decide their ability for the competition on July 29.
Competing in the women's light-weight double scull 2km event, there are 17 teams. The Vietnamese hope to make the final round which will see the top six pairs battle it out.
"We have been happy to return home with medals [from recent tournaments], thanks to many people's support. We are determined to make it to the final of the Olympics, so all of our hard work does not go to waste," said Thao, some days before her departure.
However, the girls will be competing with practically no knowledge of their rivals, except for the first two pairs from Japan and South Korea who also secured their tickets at an Olympic qualifier in April in South Korea.
Japan are the best in Asia followed by Korea and Viet Nam.
In their event, they will face world championships Greece, silver medallists Canada and bronze medal winners Great Britain.
The Vietnamese duo have won remarkable fame after being paired together earlier this year. After four months under Donnelly, a former professional rower from Australia, they pocketed a bronze from the Asian championships and went through to London.
Knowing that there are many challenges awaiting ahead, the duo said they wanted to make their dream come true because: "Donnelly, Viet Nam's fairy godfather, is right by our side."
VietNamNet/Viet Nam News