VietNamNet Bridge – Vietnam's top chess player Le Quang Liem could not defend his championship at Aeroflot 2012, but the failure temporarily makes him oust from the list of international super-great masters because his Elo is deducted by nearly 20 points.
Le Quang Liem lost Aeroflot championship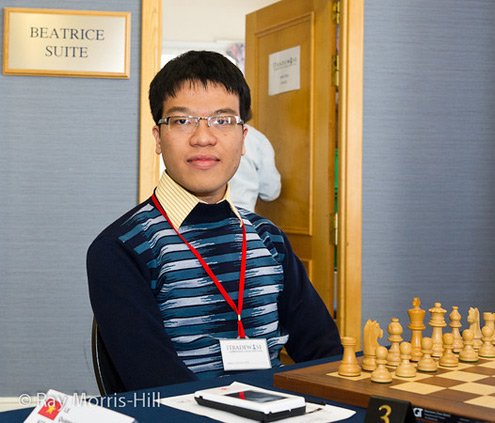 Experts said that Le Quang Liem made mistakes when he attended the two big tournaments – The UK Open Chess Tournament (Tradewise Gibraltar Chess Festival) and Aeroflot – in one month.
At the beginning of the 2012 season, Liem faced a big failure at the Aeroflot, where he participated as the current champion.
After the first win, three draws, Liem was unexpectedly defeated in three games. This was a big surprise. Vice Chair of the Vietnam Chess Federtion Dang Tat Thang said that the three consecutive losing games were the consequences of psychological and physical impacts.
After a successful year, Liem was enthusiastic to enter the new season with a great goal: entering the world top ten.
To achieve this goal, Liem planed to take part in many big tournaments to earn more Elo. But his hastiness has brought about contrary result.
Thang said that Liem made mistake when he decided to compete n two big tournaments like the Open UK and Aeroflot.
After ten days of tension in the UK, Liem flew back to Vietnam for only one day and then went to Mosco for the Aeroflot. The prolonged tension made adverse impacts on Liem.
The determination to achieve higher rating also influenced Liem's psychology. At the UK Open, Liem's only losing game against world female champion Hou Yifan (China) sourced from Liem's over hastiness and eagerness for winning. In that game, Liem could turn the game into a draw, but he was determined to attack and finally made mistake.
Experts analyzed that at the Aeroflt, Liem often had good start and made mistake in the end.
Losing the Aeroflot championship and getting out of the list of the international super great-masters are not too serious problems for Liem, Thang said. He hoped that Liem would take necessary Elo points at the upcoming HDbank Cup to return to the group of chess players with Elo 2700.
Liem will return to Vietnam for one-week relaxation before competing in the HDbank 2012 in HCM City.
The Vietnam Chess Federation is seeking sponsors to hire a good foreign coach for Liem, besides the current Vietnamese coach Minh Chau.
Liem will be provided with $150,000 in four years, enough to hire excellent coaches for three months/year, the longest training period for him so far.
PV