VietNamNet Bridge – The shareholders' meeting of the Vietnam Professional Football JS Company on December 14, voted Vo Quoc Thang, Chairman of the Dong Tam Long An football club as VPF Chair.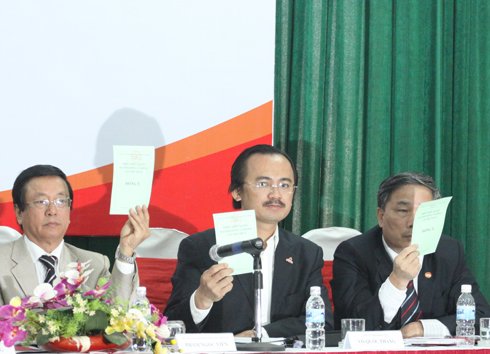 VPF Chair Vo Quoc Thang (middle).
It is a big surprise because before the meeting, it was almost sure that this position would belong to the Vietnam Football Federation's (VFF) Vice Chair Le Hung Dung.
The meeting elected nine members of the VPF executive board, which include four representatives from 14 clubs at the V-League, one from 10 clubs at the First Division Tournament, 3 from the VFF and one from non-football agencies.
The executive board then voted Thang as the Chair and three vice chairs, including VFF Vice Chair Le Hung Dung, Hanoi FC boss Nguyen Duc Kien and Hoang Anh Gia Lai boss Doan Nguyen Duc.
Another VFF Vice Chair, Pham Ngoc Vien, was elected as VPF general director. Vice general directors comprise Pham Phu Hoa, managing director of Dong Tam Long An FC and Luu Quang Lam, Saigon FC Chair.
The national football championship V-League 2012 will change everything, including its name, from V-League to Premier League. The chief organizer of the Premier League 2012 is Tran Duy Ly, former VFF vice chair, while Nguyen Huu Bang is the chief organizer of the First Division Tournament 2012.
VPF's Control Board has three members: Le Tien Anh, Khanh Hoa FC Chair, as the chief, Nguyen Nam Hung, managing director of Tien Giang FC and Pham Quang Thanh, Binh Dinh FC Chair as members.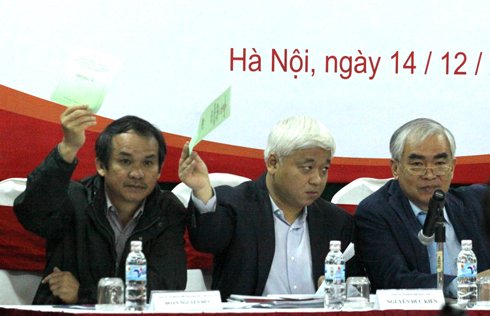 VPF's three vice chairs (from the left): Doan Nguyen Duc, Nguyen Duc Kien and
Le Hung Dung.
The VPF shareholders' meeting also passed the Professional Football Regulations 2012, which has many new regulations. Notably, as of 2014, FCs will not be allowed to change their names to serve commercial purposes though their ownership changes.
A big change that is approved by FCs is the gradual reduction of foreign players at local football tournaments. Accordingly, at the Premier League 2012, each FC is permitted to register four foreign players and use up to 3 at the same time. The number will reduce to 3-2 in 2013.
At the First Division Tournament, each FC is permitted to register 3 foreign players and use up to 2 at the same time. The number will reduce zero as of 2013. It is similar for the Super National Cup and play-off matches.
FCs are also requested to have at least three young players, aging from 16-21.
Son Tung