VietNamNet Bridge – Vietnamese football club Hoang Anh Gia Lai has signed a one-year contract with a South Korean coach, Choi Yoon Gyum, who will replace coach Huynh Van Anh.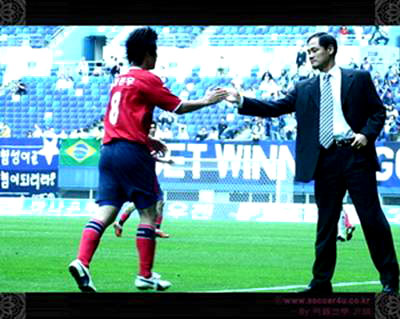 Huynh Van Anh replaced Thai coach Dusit in the second half of the 2011 football season. With poor performance, the team ranked ninth at the V-League 2011.
The Korean coach arrived in HCM City on October 10 and he will fly to Pleiku city today, October 11 to assume the new job.
The Korean coach, 49, graduated from the sports faculty of the In Cheon University in 1984. He played for the football team of his primary, high school and university. After that, he joined the Jeju United FC from 1986 to 1992. He played 162 matches for the team, as a central fullback.
He was also a member of the Korean Students' National Football Squad, the National Olympic team and the national team. He played in five international games.
Since 1992, he has become a football coach at the Bucheon SK Club. In 2001-2002, he was the chief coach of the Jeju United Club. From 2003 to 2007, he was the coach of the DaeJeon Citizen FC. Since 2009, he is the coach of the Sports Faculty of Incheon University.
PV