VietNamNet Bridge – Striker Le Cong Vinh on September 18, confirmed to leave Hanoi T&T because the two sides could not reach agreement. However, one day later, he announced to sign a three-year contract with this club.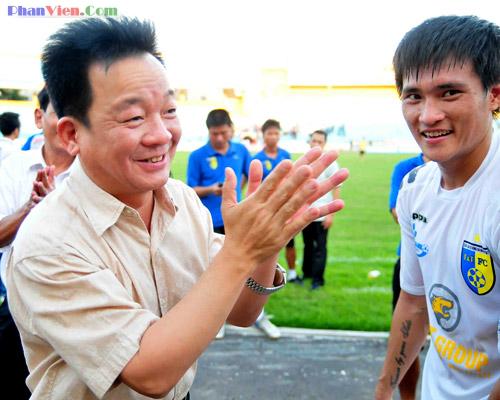 Striker Cong Vinh and Hanoi T&T's sponsor Do Quang Hien.
Vinh has changed his mind after seeing Hanoi T&T's sponsor Do Quang Hien, the most important person of the team in the morning of September 19.
Vinh has decided to sign another three-year contract with the team. He said Mr. Hien convened him to stay with Hanoi T&T.
"He has treated me very well. He is among the major driving force for my decision," Vinh said.
The two sides will sign the contract this week.
It is rumored that Cong Vinh is now worthy VND15 billion ($750,000), one of the most expensive football player in Vietnam.
Before negotiating with Hanoi T&T, Vinh was invited to play for a club in Czech Republic and Muang Thong United club of Thailand, with monthly pay of $10,000 but he refused.
Vinh joined Hanoi T&T in October 2008, with transfer fees of VND7.5 billion, a record in 2008. In the first season, Vinh scored 14 goals to help Hanoi T&T rank fourth at V-League 2009.
Vinh suffered from wounds in 2020 and re-joined the team in the second half of V-League 2011. He scored 10 goals to take his club to the second position of V-League 2011.
PV