VietNamNet Bridge – No place in the world like Vietnam--where people have to pay three kinds of taxes and seven types of fees to use a car.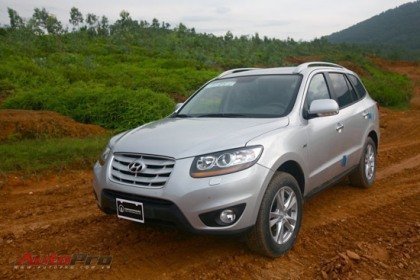 This car is priced $23,000 in the USA but in Vietnam, it is $69,000.
As a result, car prices in Vietnam, a developing country, are around 2.5 folds higher than that in the USA.
To import a brand-new five-seat car into Vietnam, one must pay three kinds of taxes: import tax (82 percent), luxury tax (30 percent for car of over five seats and 50 percent for cars of five seats downwards) and value added tax (10 percent).
Let's do a calculation with an imported Hyundai SantaFe. If the price of this car is $23,000 in the USA, when it comes to Vietnam, its price will be: $23,000 + imported tax of $18,860 + luxury tax of $20,930 + VAT of $6,280 = $69,000. The total taxes for this car are up to $46,070.
Users will also have to pay up to seven types of fees, as of June 1, 2012, when the fee for road maintenance takes effect, including: registration fee, number plate fee, inspection fee, insurance, gas fee, road maintenance fee and the fee for stabilization fund.
In addition, if the Ministry of Transport's proposal to collect the circulation fee and the fee to get into the downtown of big cities are approved, car users will have to pay more.
If one buys an imported SantaFe and he lives in Hanoi, this man will have to pay $13,800 of registration fee (20 percent), VND20 million ($1,000) for the license plate, plus VND5.4 million ($260) for inspection fee for 30 months, VND180,000 ($9) of road maintenance fee per month.
If the circulation fee is approved, this man will have to pay an additional VND75 million ($3,300) for 2.5 years (VND30 million or $1,500/year) in the first car inspection.
In total, this man will have to pay $83,000 (both taxes and fees) to run this car while it is priced only $23,000 in the USA and American have to pay a total of $35,000 to run the car.
According to the Ministry of Industry and Trade, Vietnam's per capita income was $1,300 in 2011. Meanwhile, the figure was $47,084 for American. The dream of having a car is getting very far for most of Vietnamese.
That is only the initial investment in that car. To "maintain" it in Vietnam, it is also a big problem.
As the gas price is rising, one will have to pay around VND4.5 million ($220) for gas if he runs 2,000km per month and around VND2-3 million ($100-150) for parking fees. If the circulation fee is imposed, he will have to pay and additional of VND2.5 million ($110) per month. The total spending for a car is estimated at nearly VND10 million ($500) per month.
The advice of experts for Vietnamese is: if you earn at least VND50 million ($2,500) per month in Vietnam, you should buy a car.
How many percentage of Vietnamese people who earn at least VND50 million a month to be able to "maintain" a car?
Let's share your comments with us through evnn@vietnamnet.vn.
Duc The