VietNamNet Bridge – Many Americans uttered that it is not the truth and they do not believe that it could happen, but it is the truth, said American veteran – photo-journalist Ronald Haeberle.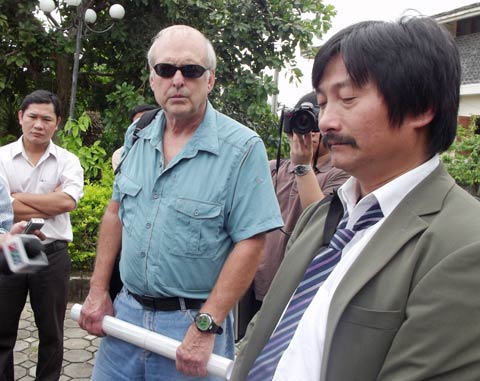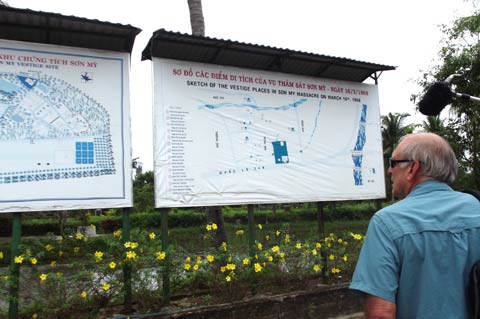 Ronald Haeberle at the Son My Relic on October 23, 2011.
The Vietnam War ended 36 years ago. A new generation has been born and is growing up after the war. War witnesses are living in their old age. Vietnam is now in peace and is developing very fast.
Somewhere, somehow, people seem to forget that war happened here. But for residents of Son My village in the central province of Quang Ngai, the war is still fresh.
"My Lai Photographer Ron Haeberle Exposed a Vietnam Massacre 40 Years Ago" is the title of an article by Evelyn Theiss on The Plain Dealer dated November 20, 2009.
Forty two years ago, black-and-white photographs of slaughtered women, children and old men in a Vietnamese village shocked the world - or that portion of the world willing to believe American soldiers could gun down unarmed peasants and leave them to die in streets and ditches.
The Plain Dealer was the first news outlet to publish the images of what infamously became known as the My Lai massacre, which had taken place on March 16, 1968.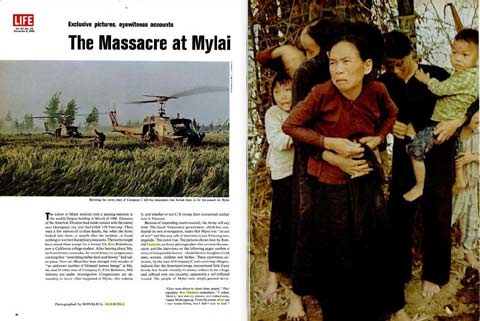 The My Lai Massacre on Life magazine, photo by Ronald Haeberle.
On March 16, 1968, around 140 American soldiers of the three platoons named Charlie, Bravo and Anphal, commanded by Colonel Ernest Medina, entered My Lai, My Hoi and Binh Tay villages to "raid Viet Cong." But actually, they rousted local residents from their homes, raped young girls and then killed them, their siblings, parents and grandparents. When the injured moved among the corpses they lay with, they were shot again until they were still.
Within four hours, American soldiers killed 504 civilians, most of them women, the elderly and children. Viet Cong soldiers were 240km from My Lai at that time. The Charlie platoon's commander – Lieutenant William Calley ordered to "kill them all, burn all" in the village. This platoon killed more than 300 civilians in My Lai alone. (After the massacre was exposed, only Calley was brought to the military court and was only put under house arrest for three years.)
The massacre came to light 16 months later, by reporter Seymour Hersh. Hersh sent many letters to American government officials asking to investigate the "bloody and dark" incident at Pinkville (the way US army called My Lai village).
Hersh also conducted an independent investigation. In September 1969, the Time, Newsweek and The Plain Dealer (Life now) published Hersh's reportage, illustrated by Ron Haeberle's photos. Haeberle was a war photo-journalist who joined Charlie platoon on March 16, 1968.
Hersh then won the Pullizer Prize for the reportage.
Return to My Lai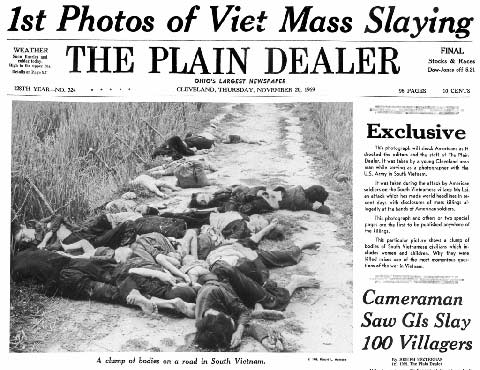 The My Lai Massacre on The Cleveland Plain Dealer, photo by Ronald Haeberle.
Ron Haeberle was not a professional journalist, just a trainee soldier at that time. He was assigned to follow Charlie platoon to take photo of dead bodies to serve the army's report of "achievement in destroying Viet Cong" and to supply pictures for the army's Stars and Stripes Newspaper.
In that fatal morning, Haeberle arrived at My Lai on a helicopter, with two cameras, a Laika to take black-and-white picture for the army and a Nikon to take color photos for himself.
Many newspapers questioned how Haeberle could "fool" the US army to take the Nikon and rolls of color film back home to cause the "aftershock" one year later, but Haeberle has not talked about this.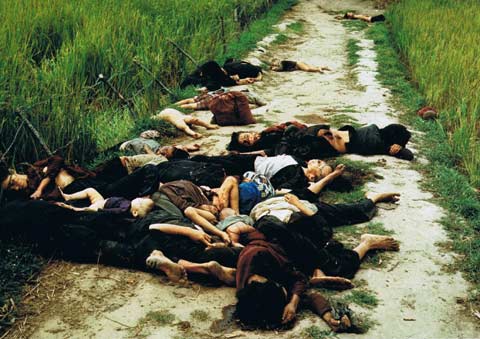 Victims of the My Lai Massacre, photo by Ronald Haeberle.
After being refused by some famous newspapers, correspondent Hersh published the first article about the My Lai Massacre on a little known newspaper. Reading Hersh's story, Haeberle decided to call his friend, Joe Eszterhas, a former sub-editor of The Plain Dealer to disclose his photos of the My Lai Massacre.
When the first pictures were posted on this newspaper, many American were very shocked. They could not believe that it is the truth. "Heros" of the US army became brutal killers. A large-scale investigation, led by general Willian Peers, was carried out in three months. Haeberle became a significant witness in the most disreputable scandal of the US army.
Haeberle returned to Son My on October 23, to visit the old battlefield, where the massacre occurred, with Tran Van Duc, a Vietnamese German, one of the survival in the My Lai massacre.
The next article is the interview with Haeberle, about what he witnessed at Son My.
Hoang Huong
Next: The fatal morning in Ron Haeberle's memoirs