VietNamNet Bridge – A big problem of the Mekong Delta is farmers' shortage of farming land because large areas of land are granted to industrial projects.
The Mekong Delta cries for help

The Mekong Delta's deadly foibles 
When farmers desert their villages
Enriching thanks to land agglomeration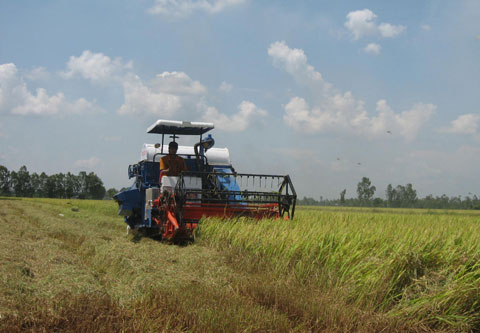 A senior journalist in the Mekong Delta city of Can Tho said, that while Vietnam is very careful about land agglomeration in agricultural production because of the worry that many people may lose their land and their jobs, it forgets that revoking fat land to build golf courses and industrial zones is pushing many farmers back to poverty.
In fact, land agglomeration is taking place naturally in the Mekong Delta. Some farmers have bought or hired more land to do big business.
Mr. Phan Van An's family in Lang Bien, Dong Thap province, has five members. They worked very hard but they could not get rich. In 2009, Mr. An decided to hire 7 hectares of land of his neighbor to plant rice. This decision has helped An to have a better life. He now can afford his youngest child to study at a university in HCM City.
An's relative, Mr. Chap, spent all of his saving money in years to buy 20 hectares of field. He borrowed capital from banks to buy some agricultural machines. He continued to invest profits from 20 hectares of field to buy or hire more land to expand production. From a poor farmer, Chap is now a well-to-do man.
"His family has bought a tour to Thailand," An said with admiring attitude.
Prof. Vo Tong Xuan also confirmed the fact that some farmers in the Mekong Delta have quietly assembled land to enrich themselves. He said some farmers own up to 40 hectares of field.
There are over 36,000 hectares of fields in Thoai Son district, An Giang province and around 10 percent of local farmers have 30-40 hectares of land. In Tay Phu commune, around 70 percent of the fields are owned by farmers from other provinces.
Land agglomeration has become a chance for farmers to enrich themselves. To assist farmers to escape from poverty, the land policy must change because farmers cannot get rich with smallish plots of land of 0.3-0.5 hectares.
Why enterprises can hire land for 90 years, not farmers?
Land problem has been discussed at the National Assembly. While some deputies are still cautious, some say that if Vietnam permits land agglomeration, it would be a solution to achieve the goal of modernizing the country's agriculture.
In the time of globalization, agricultural products must compete fiercely, even in the home market. Only good producers who have large-scale production can stand in the market.
Deputy Minister of Agriculture and Rural Development, Diep Kinh Tan spoke to more than 200 delegates at a recent workshop that the biggest and basic difficulty of Vietnamese farmers is small-scale of production. They cannot assemble land for concentrated and large-scale production.
While land agglomeration is still in discussion, experts have recommended several times that in principle, the land use right must be in the long term so farmers dare to invest in developing production.
"We allocate land to industrial and service businesses as well as foreign investors for 50, 90 years, why not we allocate land to farmers for the same duration?" questioned former Minister of Agriculture and Rural Development, Le Huy Ngo.
This is a big question that policy makers need to answer very soon.
Thu Ha