VietNamNet Bridge – If agriculture is the mirror reflecting the society, the Mekong Delta will be reflected as a sluggish and injured region.
The Mekong Delta's deadly foibles
The Mekong Delta cries for help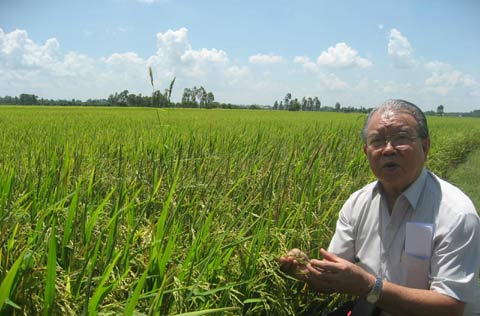 Nguyen Van Son from the Institute for Mekong Delta Research and Development, who has been closely attached to the region for several decades, said that many paradoxes exist in the region: it is the most developed area for goods production but the rates of poor people, illiterate children are highest; it contributes 90 percent of rice for export and 60 percent of the country's seafood export turnover but its rate of malnourished children is highest; the rate of people living in short-lived houses is also highest in the country.
Earning $0.3 per day
Mr. Nam Sang was born and grew up in the Mekong Delta. His family's one-hectare rice field is located in Dinh My commune in Thoai Son district, An Giang province, which belongs to the Long Xuyen tetragon, one of the two top rice centers in Vietnam. This area is specialized in growing rice for export. However, Sang's family and most of his neighbors are always close to the criteria for poor people.
"When he was still alive, my grandfather wished to save enough money to build a tile-roofed house but he could not. My father could not and even I, at the age of 60, cannot perform my grandfather's wish. I cannot afford my children's studies, let alone building a house," Mr. Nam Sang said, pointing his finger to his leaf-roofed house.
According to statistics, the Mekong Delta's per capita GDP (gross domestic product) is equivalent to two third of the country's average. For consumption, which is seen as more accurate measurement of poverty, the delta's per capita consumption is around 10 percent less than the country's average. Its growth rate in the 1993-2003 period was equivalent to two third of the country's average. It means that the gap of living standard of the Mekong Delta and other regions is widening. In some communes, poor households account for 18-20 percent. Based on the criteria of the Millennium Development Goals (MDGs) program, around 50 percent of the delta's households have daily earnings of less than $1/person.
Son wondered: "Earning around VND200,000 ($2) a person a month or VND2.4 million ($100) a person a year, how could they live?"
Great disadvantages
In late June, rice fields in the delta were in harvest season. Farmers were satisfied with the good harvest but they were still sad because they could not sell rice at good prices. "The price was high at the beginning of the crop but it suddenly falls," a farmer said.
After making fierce bargaining on his field, farmer Bay Du in Hamlet 4, Lang Bien village, Thap Muon district, Dong Thap province, had to agree with VND4,800 ($0.23) for one kilo of wet rice.
Looking to other fields, where farmers and traders were making tense bargains, the old farmer said that his neighbors would have to accept the prices offered by traders. Like him, they have no choice because if they do not sell rice, they do not have warehouses to stock rice.
"We have had bumper crops in recent years. Each 2.5 hectares of field yield VND115 million dong a year. Deducting debts for seeds, fertilizer, etc. the profit is around VND70 million ($3,500). That amount is only enough for life, not for savings," Mr. Bay Du said.
He added that the prices for inputs highly increased this year, though the price for rice also rose, his income was still low because the increase of rice prices was less than the increase of prices for inputs. Specifically, the price for fertilizer rose nearly 30 percent; and 20 to 30 percent for pesticide.
"The prices for everything, including school fees and spending for books, rise, except for income," he complained.
Mr. Bay Du's difficulties are similar to those of most farmers in the Mekong Delta, who directly produce goods but do not have the right to fix the prices for their products. They have to sell their goods at dirt prices to have cash to pay debts, which incur in the early rice crop when they have to borrow to purchase inputs like fertilizer, seed, pesticide and hiring labor.
Prof. Vo Tong Xuan, former director of the An Giang University, said: "Rice growers are always poor because they do not have capital. They have to borrow from banks to buy inputs. After each harvest season, farmers are crowded at banks to pay debts. Paying the old debts, they incur new ones for the next crop. Up to 95 percent of farmers have to borrow loans like this".
Prof. Xuan analyzed: "Our farmers have shifted from producing rice in the mode of self-supply to commercial product. However, when they enter the market, they are always inferior, particularly poor farmers. For example, the prices for fertilizer in the market is VND200/kilo, farmers have to buy from suppliers at the price of VND250/kg. Sometimes they purchase fake fertilizer".
Vietnam's agricultural market is mainly based on the relations between farmers and businesses. Businesses have exclusive right to process and circulate of agricultural produces so farmers have no right to make bargaining. At the same time, the prices for input of agricultural production are on the rise.
In that situation, the life of farmers in the Mekong Delta is getting harder and harder. They almost benefit nothing when the prices for agricultural products increase and always suffer from losses when the prices for agricultural products fall.
In a recent workshop, Deputy Minister of Agriculture and Rural Development Bui Ba Bong admitted "Vietnam's achievement in exporting rice is true but farmers are poor people and rice growing areas are underdeveloped".
Thu Ha

(The article uses data at workshops about the Mekong Delta)