Recent economic shocks have released a warning message: if the policy for the Mekong Delta (Vietnam's rice basket) is not changed, agriculture - the region's advantage - will disappear. VietNamNet Bridge would like to introduce Thu Ha's reportages after a field trip to the Mekong Delta.
Part 1: The Mekong Delta is abandoned by the state, ignored by foreign investors Being abandoned by public investment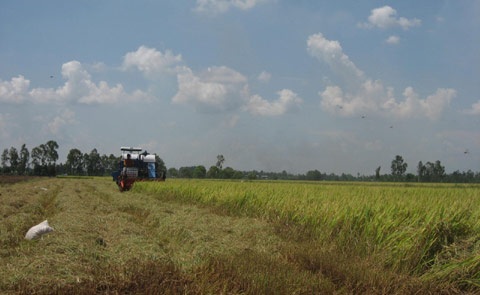 The Mekong Delta is the key region of Vietnam's agriculture. According to the Institute for Agriculture and Rural Development Policies and Strategies, this region has the best advantage in sustainable agriculture in Vietnam. Thanks to the nature's favor, this region enjoys abundant development energy resources.
Though the delta's farming and aquaculture areas accounts for less than 30 percent of the country's total but it contributes up to 54 percent of Vietnam's total seafood output and 30 percent of the total agricultural production value.
Twenty-five years after the country performed the renovation policy (called Doi Moi) under the leadership of the Communist Party of Vietnam (began in 1986), the Mekong Delta's rice output has rocketed to over 19 million tons, contributing to more than 90 percent of Vietnam's rice volume for export and to turn Vietnam into one of the leading rice exporters in the world, from a starveling country. The region's seafood also contributes to nearly 70 percent of the country's seafood export turnover.
Economic expert Nguyen Van Son, from the Institute for Mekong Delta Research and Development, confirmed that the delta developed strongly in the past ten years. Thanks to the great contribution from this region, the Vietnamese economy has overcome hard periods, with impacts from economic and financial crises in the region and the world.
With its great contribution, the Mekong Delta's people deserve well-off lives and the region's agriculture must be very modern. But in fact, the delta has benefited little from the fruits of renovation.
This region is still stuck in poverty and backwardness. Official statistics reveal that impoverishment still sponges on this region. Nearly 50 percent of farmers in the region earn less than $1 per day. Many communes that are granted the Hero title are in the situation that is called impoverishment in the Millennium Development Goals (MDG).
Prof. Vo Tong Xuan, a very famous agricultural scientist, said that the Mekong Delta has been "abandoned" for a long time. The clear evidence is the state's investment in this region is unequal with its contribution to the economy, only 16 percent of total budget spending. Many infrastructure projects which were considered over tens years ago have been kicked off recently. Last year, the government spent VND16 trillion to stimulate investment but the Mekong Delta's agriculture benefited merely 0.36 percent.
Prof. Xuan complained several times that this region is over-exploited while re-investment is modest. The delta is getting exhausted because of the policy to exploit its available potentials.
While the little budget for agriculture is narrowing, public investment is being poured into industrial zones and residential areas. Notably, around 70 percent of farming land that is revoked for industrial projects are still unused while many farmers do not have farming land.
Being ignored by foreign investors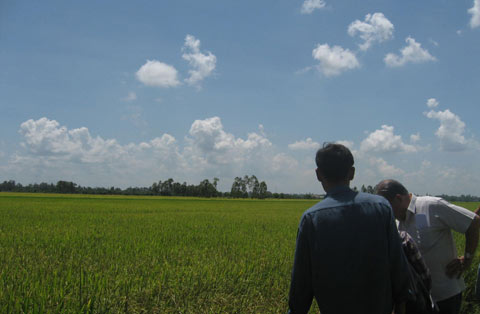 The state's investment is modest, foreign investment is modest, too. Some provinces in the delta have called for foreign investment but some investors said frankly that in their policies, this region has great potential but at this moment, investing in this region is less lucrative than in other places. Though the region has attracted over 450 foreign-invested projects, its face has not changed basically.
Experts said that there is little chance for Vietnamese agriculture to have access to foreign investors. In comparison with Thailand, which has similar climate and geographical position with Vietnam, in luring foreign investment in agriculture, Vietnam is left far behind.
The deadly weaknesses of the Mekong Delta are very popular: poor infrastructural facilities, poor quality of the workforces, loose connection, etc.
These problems were defined a long time ago but until now they have not been solved. As a result, the Mekong Delta has lost many opportunities.
Recent economic shows have released the warning that if the delta is not immediately treated in a different way, it will lose its agricultural potential.
Prof. Academician Dao The Tuan spoke in an interview with VietNamNet one year ago: "It is a mistake to think that if we develop industry, we do not need agriculture anymore. We cannot perform industrialization at any cost, by forcing agriculture and farmers to gather up their power for industry to achieve the targeted GDP like Vietnam is doing".
"In Vietnam's current conditions, agriculture is the sector that we have to maintain and develop, not for any competitive advantage, but because developing agriculture is compulsory, otherwise we would die," he said.
It has been proven by the fact that for a country like Vietnam, it has to depend on agriculture to develop the economy. Whether agriculture becomes a sustainable fulcrum for the economy? It depends on decision-makers who dare to implement renovation in agriculture or not.
Thu Ha