VietNamNet Bridge - Tran Le XuanTran Le Xuan, wife of Ngo Dinh Nhu, consultant and brother of Ngo Dinh Diem, who ruled South Vietnam from 1955 to 1963, has passed away at 87 in Rome, the BBC reported.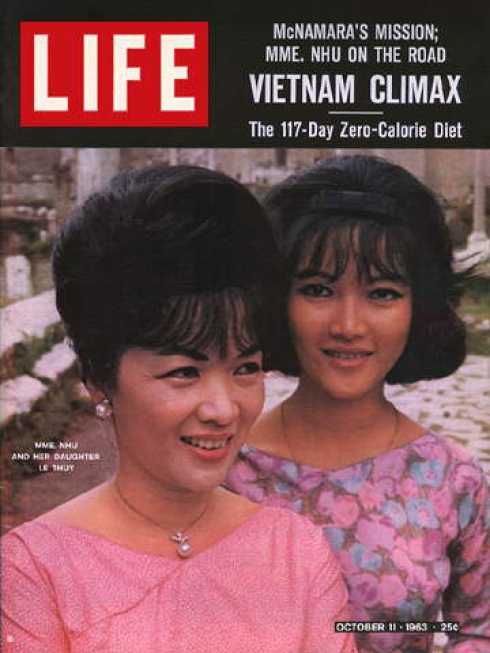 Tran Le Xuan and her daughter Ngo Dinh Le Thuy on Life Magazine cover, 11-10-1963



Born in 1924 in Hanoi, Xuan married Ngo Dinh Nhu at 18 and was known as the first lady of South Vietnam since President Ngo Dinh Diem was a bachelor.
Xuan's father was Tran Van Chuong, a former ambassador of the Saigon government to the United States.
Her mother, Than Thi Nam Tran, was a granddaughter of Emperor Dong Khanh and a cousin of Emperor Bao Dai, the last king of the Nguyen Dynasty.
When Diem and Nhu were assassinated in a coup d'état led by General Duong Van Minh on November 1st,1963, Xuan and her oldest daughter Ngo Dinh Le Thuy were abroad.
Xuan never returned to Vietnam. In the last years of her life, she lived in Rome.
She had two sons and two daughters. Le Thuy died in 1968 at 22 in an accident in Longjumeau, France.
Source: Tuoi Tre