VietNamNet Bridge – For the first time--a fisherman in the southern province of An Giang caught a Mekong giant catfish of over 70 kilos.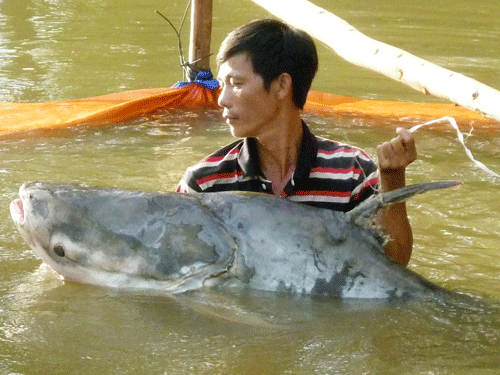 A fisherman in An Phu district of An Giang province on July 8 caught a Mekong giant catfish of nearly 72kg, over 1.5m long in the Hau River, a branch of the Mekong River in Vietnam.
Local people said that the fisherman sold the giant fish to a local man named Tran Van Hien, pricing VND160,000 ($8) per kilo.
However, Hien said he did not buy the giant fish. "On the evening of July 6, a man named Meo offered a very big fish for sale, but police detected and did not allow Meo to sell the fish. The fish was temporarily released to the pond in my restaurant because the pond has an oxygen pumping system. But the fish has been brought to somewhere," Hien said.
Mr. Tran Anh Dung, Chief of An Giang Aquaculture Department, said that the Mekong giant catfish is listed as an endangered species in Vietnam, which is banned from catching and trading.
Dung said the department was reported to about the case and its experts took the fish from Mr. Hien's pond to a big lake. The fish will be taken care for several days and then released back to the Hau River.
"This fish was caught by a big casting-net. This is the reproduction period of the Mekong giant catfish. Perhaps the fish migrated from the Mekong River to the Hau River. A Mekong giant catfish of over 70kg in the Hau River is very rare," Dung added.
The Mekong giant catfish, Pangasianodon gigas, is a species of catfish (order Siluriformes) in the shark catfish family (family Pangasiidae), native to the Mekong basin in Southeast Asia.
The Mekong giant catfish is perhaps the most interesting and most threatened species in the Mekong River. For this reason conservationists have chosen it as a sort of "flagship" species to promote conservation on the Mekong. With recorded sizes of up to 10.5ft (3.2m) and 660lb (300kg), the Mekong's giant catfish currently holds the Guinness Book of World Records' position for the world's largest freshwater fish.
Endemic to the lower half of the Mekong River, this catfish is in danger of extinction due to over-fishing, as well as the decrease in water quality due to development and upstream damming. The current IUCN Red List for fishes classes the species as Critically Endangered; the number living in the wild is unknown, but catch data indicate the population has fallen by 80 percent in the last 14 years. It is also listed in Appendix I of CITES, banning international trade.
Compiled by
Le Ha