VietNamNet Bridge – There should be specific regulations for journalists in action, and their professional rights and interests must be protected in a timely manner, delegates said at a seminar on "Protection of journalists' practicing rights" held yesterday, June 12, in HCM City by the Vietnam Journalists Association.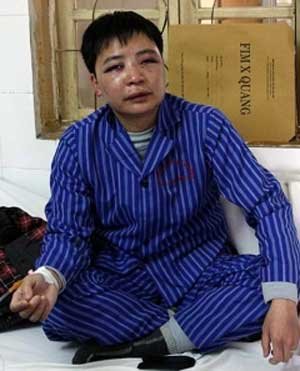 Tran The Dung, a journalist at Nguoi Lao Dong Newspaper, who was assaulted in northern Lang Son Province in January 2011. (Photo: Tuoi Tre)
Over the past five years, there have been about 40 cases in which journalists were assaulted, five of which have occurred recently, said deputy chairman of the Vietnam Journalists Association Pham Quoc Toan.
Among the latest victims are two journalists of the Radio Voice of Vietnam, Nguyen Ngoc Nam and Han Phi Long, who were assaulted by policemen during a forced land eviction in Hung Yen Province on April 24, 2012; and Tran The Dung, at Nguoi Lao Dong Newspaper, who was brutalized by a group of people in Lang Son Province on January 1, 2011 while collecting information for articles on smuggling; Toan said.
In many cases, journalists have had to throw themselves into dangerous spots to uncover social evils, to investigate cases of corruption, and to find out the truth about issues of public interest, Dinh Phong, former deputy chairman of the Vietnam Journalists Association, said.
While engaged in such activities, journalists often face resistance, even by force, from people who are subjects of their investigations, Phong said.
He also pointed out that "there exist cases in which a number of people worked together to act wrongly against journalists, while the law fails to protect journalists…."
Once assaulted, journalists suffer not only physical pain, but also spiritual damage, since they feel that they have not been protected as they expected to be, and that they have not been give freedom to practice legally, said Nguyen Dinh Xe, of the Nguoi Lao Dong Editorial Board.
The most serious challenge facing journalists now is that they are often hindered in collecting necessary information for their coverage, Xe said.
Specific norms
In order to protect journalists, the Vietnam Journalist Association should work out specific regulations for journalists in action, lawyer Phan Trung Hoai, at the HCMC Bar Association, said.
Such regulations are the basis for determining the legality of journalists' activities while they are working, such as recording, photographing, shooting, getting information or material, and other actions.
Such regulations are crucial since there have been many cases in which reporters were accused of committing wrongdoings in action, especially in anti-corruption cases, the lawyer said.
Hoai cited the case of Hoang Khuong, a journalist for Tuoi Tre Newspaper who has been detained and prosecuted for allegedly giving a bribe of VND15 million (US$720) to a corrupt traffic police officer in Ho Chi Minh City while he was collecting information and evidence for one of his anti-corruption articles.
"If the association had released a statement to voice their opinions about this case, the situation may have been different, Hoai said."
As previously reported, Khuong maintained he did not bribe anyone. He simply made the mistake of handing the money to the policeman on behalf of another man, and he did so in order to gather evidence for an exposé story.
Timely protection
"When a case occurs in which journalists' legitimate rights and interests are infringed upon, the Association must issue written statements to show its view and opinion to protect affected journalists. It is unadvisable that the association voices its opinions or requests only after other agencies have already raised their viewpoints," Toan said.
Minh Thanh, a journalist from Dong Nai Television and Broadcasting Station, requested that local journalist associations should raise their voices as soon as possible when journalists' professional rights are violated, in order to protect them in a timely manner.
Many cases in which reporters were assaulted or hindered have yet to be handled satisfactorily, and such a reality will discourage journalists, Thanh said.
Dao Van Lung, head of the HCMC Office of the Central Committee for Propaganda and Education, said that journalists must first have full knowledge of laws and practice within these parameters to protect themselves.
Besides, legal enforcement agencies must protect journalists who fall victim to legal violation cases, and the Law on Press should be amended to be more effective.
VietNamNet/Tuoi Tre