VietNamNet Bridge - The Ha Noi Department of Industry and Trade has rejected a proposal from the owners of the city's unhygienic Thinh Liet Abattoir to keep the facility open until next August.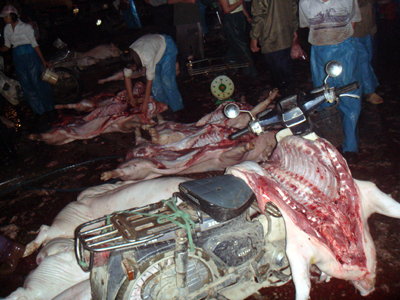 In the plan, submitted before Wednesday's closure of the facility, slaughterhouse owners said they needed more time to find new business premises.
Minh Trang, a slaughterhouse owner, said this was because monthly rents at the city's new, state-of-the art Minh Hien abattoir were as high as VND17 million ($809), an increase of 41 per cent on rates at Thinh Liet Abattoir.
She also said facilities at the new abattoir were too small.
"Even worse, the new abattoir is 30km from the city centre, while other traditional ones are just 5km away. How can we compete?" Trang added.
Thieu Huong, another slaughterhouse owner, said the city should close down other traditional abattoirs or they would suffer big losses.
However, the vice director of the Ha Noi Department of Industry and Trade, Nguyen Thi Nhu Mai, rejected the owners' proposal.
She said the city would close all unhygienic and polluting abattoirs in the city and Thinh Liet was no exception.
Mai also confirmed the city was giving slaughterers from the Thinh Liet Abattoir VND10 million ($476) each a month for the next six months to help them stay in business.
Other city abattoirs, such as Tuu Liet, Ngoc Hoi and Van Dien would also close in the near future, added Mai.
Vice director of Minh Hien Co Ltd Nguyen Thi Hien said that space was available at the company's modern slaughterhouse and that 13 slaughterers, including four from Thinh Liet Slaughterhouse, had already taken out leases.
The VND50 billion ($2.38 million) Minh Hien abattoir is equipped with a waste treatment system and a separate processing system.
At capacity, the facility can handle 1,000 pigs and 10,000 poultry per day, or 30 per cent of the demand of the city's markets.
Before its closure this week, owners at Thinh Liet Abattoir slaughtered around 1,000 pigs and supplied 400 tonnes of pork per day for Ha Noi markets.
The abattoir violated food hygiene and environment regulations three times before being shut down this month.
Source: VNS