VietNamNet Bridge – Ten houses were buried in a rockslide that occurred in the early morning of April 15, at an earth and rock dump near a coal mine in Thai Nguyen Province, northern Vietnam.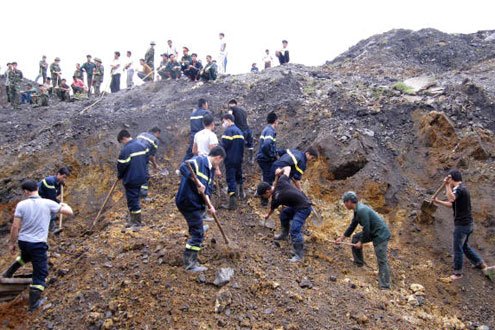 Thousands of cubic meters of earth and rocks suddenly fell onto the ten houses, which were located right beneath the tip where the materials, dug out from the Phan Me coal mine, have been dumped for years. By the end of the day, five people were still buried under rock and soil.
Mr. Ha Van Thang, who luckily got out of danger, says that at around 3am, he and his wife got up to take care of their newly-born pigs. They suddenly heard a big explosion from the mount behind their home. Smoke rose from the nearby transformer station. Seeing rock and waste from the mount falling, he shouted and ran out of the house with his wife and his son.
However, his parents could not get out of the house. His father, Ha Van Xuan, 90, was quickly transported to a hospital and is still alive, but his mother, Vu Thi Hong, 85, was dead because of suffocation.
By April 15, five people were still buried under rock and soil. Police, soldiers, firefighters, and militias were deployed to find the missing victims, but little hope is seen under the huge amounts of earth and rocks at the scene.
A lack of specialized machines--like bulldozers and excavators, has greatly hampered their search and rescue efforts so far.
Earth and rocks mined at Phan Me have been dumped here in huge amounts during the past years, which make mountain-like heaps. Phan Me is owned by a local state-owned metal processing company.
Le Ha